Kids between the ages of five years old and six years old are often ready to move past their toddler bike to a kids bike with 16" inch wheels. With 16 inch wheels these bikes are a little harder to start and stop but they go faster and move easier over bumps in the road. Bikes at this size are more likely to offer both front and rear brakes to provide additional stopping power.
It can be intimidating for children to move up in bike size and initially they might feel a bit uncomfortable. It is normal for them to be apprehensive about the change but your job as a parent is to get them excited. A great way to do that is by involving them in the bike shopping process and letting them pick the bike color that they prefer.
Best Bikes for Children 5 to 6 years old.
Parents shopping for a kids bike have a lot of options available to them. Kids bikes come in all shapes and sizes. Some of the bikes at this age will start to emphasize good riding position and others will still be emphasizing cartoon styling. Take some time to think about what type of riding your child will be doing and what type of bike will support them best. These bikes on our list of the Top 5 choices for Kids ages 5 and 6 are all safe, exciting options for parents to consider.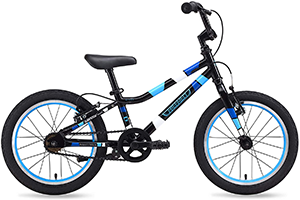 Guardian builds kids bikes with a focus on safety and that shines through with the 16 inch Guardian Bike Ethos. Unlike other bikes the Ethos uses a v brake on the top of the rear wheel to improve stopping power and couples that with a single easy to reach brake lever that stops both wheels. This combination helps eliminate some of the problems kids get into with run away bikes. Having only one brake lever reportedly helps kids stop up to 40% faster and minimizes dangerous head-over-handlebar accidents.
The frame on the Guardian Ethos is steel but the tubular design still feels fairly lightweight and kids find the bicycle easy to control. The tube angles down below the seat to make getting on and off the bike easy. The crank arms, peddles, and grips on this bike are all specially designed for young riders and with safety in mind. A kickstand is included but no training wheels. Parents and children alike find this to be an especially attractive kids bike with four color choices available and bright colored decals included. Children standing between 40" inches tall and 46" inches tall will fit perfectly on this bike.
Read more in our Full 2021 Review of the Guardian Ethos Bike.
Pros
Single Lever Braking
No Coaster Brake
Great Color Choices
Cons
Premium Price
Loose Steering
Brakes Need Periodic Adjusting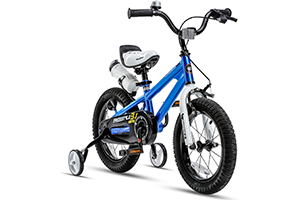 RoyalBaby makes some of the best selling bikes on the market and kids ages 4 to 6 years old will like this Freestyle bicycle available in 16 inch wheels. The bike has a steel tube frame available in seven great looking colors for boys and girls. The RoyalBaby Freestyle is dripping with market leading features like front caliper brake, rear coaster brake, saddle bar and water bottle holder. The bike assembles easily and comes with wide 2.4" tires, a kickstand, and training wheels that bolt on and off fast.
Parents like that this bike comes over 95% assembled and that the bike seat is easy to adjust up and down as kids grow. The bike has rear coaster brakes and a caliper v brake on the front. Children can learn to ride on this bike with the included training wheels and a saddle bar on the seat that allows parents to closely monitor their child as they ride. The pedals have a good grip to hold children's feet and a full chain guard to prevent the chain from maring your child's leg. The stem on this bike also adjusts easily to help accommodate growing kids.
Pros
Seven Bright Colors
Front and Rear Brakes
Loaded With Features
Cons
Questionable Durability
Heavier Frame
Small Training Wheels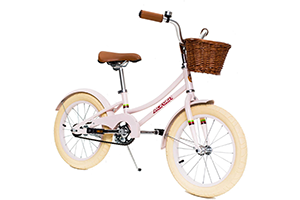 If you have a princess in your house then take some time to look at this girls bike from Aceger. It comes equipped with a wicker basket and bell on the front. The bicycle is color coordinated with soft tan handle grips and a comfortable tan seat. Little girls can choose from six different colors including nice pink, purple, and green colors. Great looking tan bike wheels measuring 16 inches further set apart the styling on this bike. The bike is recommended for young riders with a 13 inch to 16 inch inseam.
This Aceger Girls Bike is super cute but also highly functional with a sturdy steel frame that connects low so that girls can get on and off the bike easily. The seat is supportive and the tires are air filled to help provide a comfortable ride. A kickstand is included. However, this bike does require some assembly and users reported difficulty on several of the steps. Instructions that only provide vague directions further complicate the problem.
Read more in our Full 2021 Review of the Aceger Girls Bike.
Pros
Super Cute Style
Great Price
Six Color Choices
Cons
Cumbersome Assembly
No Hand Brake
Paint Chips Easily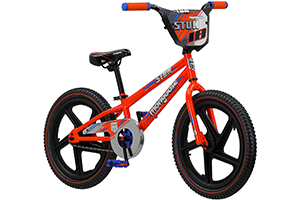 Kids with a more adventurous spirit will love the BMX styling on the Mongoose Stun Freestyle kids bike. Equipped with great looking, plastic mag 18 inch wheels and a front mudguard with stylized graphics this bike is ideal for children standing 42 inches to 52 inches tall. The wheels on this bike really stand out as the absence of traditional spokes gives the bike a fantastic offroad feel. This bicycle only has a rear brake; there is no front hand brake available.
The frame on the Mongoose Stun Freestyle is steel and it angles low so that children can easily step over the frame to get on and off the bike. The seat is easily adjustable to grow with your child and ergonomically designed to give them a comfortable, yet upright riding position. The bike also includes a chain guard and a kickstand, though parents might decide to remove the latter and further embrace the BMX styling. This bike only comes in one color but it is an attractive orange with matching fork and frame. The bike also has matching hand grips.
Pros
Solid Frame
Cool Wheels
Strong Riding Position
Cons
No Front Brakes
Single Color Available
Plastic Rims Can Bend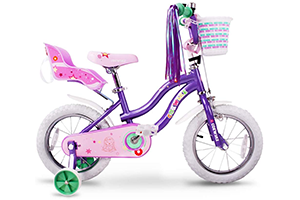 Another option for little girls is this princess style bike from Coewske. It comes in seven girly colors and is covered in adornments that kids will love. Fun features on this bike include a front basket, handlebar tassels, and a baby doll bike seat. The bike is totally adorable.
Cute as it is, this bike spends more on its extra features than on the core bike mechanics. It has a steel tubular frame that intersects awkwardly at the seat post and adds unnecessary weight. The bike does give riders good stopping power with rear coaster brakes and front v-brakes. The tires are wide at 2.125 inches and air filled to make the ride more comfortable.
Read more in our Full 2021 Review of the Coewske Kids Bike.
Buying Guide: Best Bike Kids Age 5 and 6 Years Old
What age should a child be able to ride a bike?
Kids can learn to master the basics of bike riding while still toddlers by using scoot bikes or balance bikes. These bikes can teach them balance and steering even as they still are figuring out how to walk. By the age of four kids are definitely ready to work on pedaling and have enough strength to propel themselves forward once they master the motion.
Can you learn how to ride on a bike with 16" wheels?
Yes, lots of kids at this age are being introduced to bicycles for the first time. These bikes have lots of the features parents want when teaching kids how to ride including seat saddle handles and training wheels. Learning how to ride on a bike with 16" wheels is an exciting progression from training wheels to pedaling on their own.
How far can a five year old ride a bike?
When planning bike rides with your family it is important to be aware that each rider has a limitation to how far they can enjoyably and safely ride. The youngest members of a group will often dictate just how fast and how far the group can travel. While every child is different, one helpful rule of thumb is that kids should be able to ride up to their age in miles. For instance, with a five year old you can plan trips up to five miles long and with an eight year old your family can tackle eight mile bicycle rides.
Conclusion: Top Bike Kids age 5 and 6
Bikes for this age come in all shapes and sizes. Kids can choose from bicycles that let them feel like BMX stars or ones that could feel right at home in a castle. At this age the focus should be on keeping kids excited about biking and hopefully one of the bikes on this list can do that. For these ratings and reviews there are a wide range of price points, so parents should think carefully about their budget before shopping.