Children ages 3 to 4 should be riding in a bike with either 12″ inch wheels or 14″ inch wheels. These bikes are designed for young kids that are just learning how to ride a bike for the first time. The best kids bikes for new riders positions the pedals slightly in front of the seat so that starting and stopping is easier. These bicycles also often boast safety features like saddle handles, full chain guards and dual front and rear brakes.
Top Kids Bike Ages 3 – 4 Years Old – Ratings and Reviews
Parents want to shop for a kids bike that has an especially rigid frame and also available training wheels. This will help ensure that the bike will be durable enough to last and accessible enough that your children can ride it. Learning to ride a bike takes time and kids need a bicycle that supports them during this process.
The kids bike has a lot of options for parents to choose from but for this Top 12 – 14 inch Kids Bike Review we are focusing on the Top 6 Bicycles for children Age 3 – 4 Year Old. These bikes provide a good balance between features and budget so that parents can shop confidently.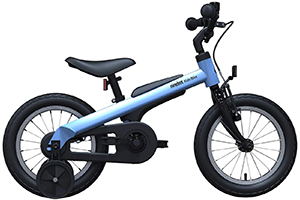 Personal mobility expert Segway enters the kids bike market with the innovative Ninebot Kids Bike for boys and girls. This premium bike has an aluminum alloy frame that makes this bike both exceptionally sturdy and lightweight. This bike weighs considerably less than its steel frame competitors so children can maneuver it around easily. The design is very streamlined and minimalist with a futuristic look that a lot of kids will love. The bike is available in blue, red, and pink so that boys and girls can find one they love.
Sporting an emphasis on ergonomics, the Ninebot from Segway positions young riders for success as they ride around. The bike comes with training wheels and they have a larger diameter that keeps them rolling easily over bumps in the road. For brakes this bike offers riders the typical coaster brakes in the back and an effective v brake on the front wheel that makes stopping easy. Safety features on this bike include a fully enclosed bike chain and a soft silicon guard protecting the main rail. It also has large, air filled pneumatic tires and an adjustable, ergonomic seat for a comfortable ride.
Read more in our Full 2021 Review of the Segway Ninebot Bike.
Pros
Ergonomic Design
Lightweight Aluminum Frame
Fully Enclosed Bike Chain
Cons
Premium Price
Limited Color Choices
Nontraditional Style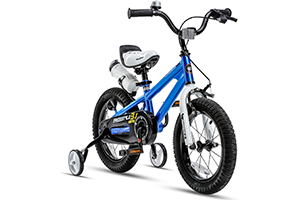 RoyalBaby has one of the best selling bikes on the market with this freestyle bicycle available in 12 inch and 14 inch wheels. This bike has a steel tube frame available in seven great looking colors and is dripping with market leading features like front caliper brake, rear coaster brake, saddle bar and water bottle holder. The bike assembles easily and comes with wide 2.4" tires and training wheels that bolt on and off fast.
Parents like that this bike comes over 95% assembled and that the bike seat is easy to adjust up and down as kids grow. Children first learning to ride benefit from the included training wheels and also the saddle bar on the seat that allows parents to closely monitor their child as they ride. The pedals have a good grip to hold children's feet and a full chain guard to prevent the chain from maring your child's leg.
Read more in our Full 2021 Review of the Royal Baby Freestyle Bike.
Pros
Seven Bright Colors
Front and Rear Brakes
Loaded With Features
Cons
Questionable Durability
Heavier Frame
Small Training Wheels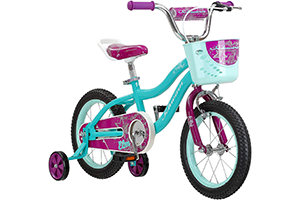 Little girls will love heading out for a nice ride to the park on the Schwinn Elm Bike. Designed for young girls standing 36 – 40 inches tall but suitable for all young riders, this bike has Schwinn's SmartStart Technology to make learning how to ride a bike easy. SmartStart Technology from Schwinn helps kids get comfortable riding bikes with gearing that makes starting easier and pedals positioned forward and closer together. This bike brakes using a coaster brake in the rear and a caliper brake in the front.
Girls will enjoy the cute front basket on the Schwinn Elm Bicycle and they will also like choosing from the three colors – teal, pink, and purple. The seat on this bike adjusts easily and kids will also like how the seat-tube is angled down for making it easier to get on and off the bike. Parents will like that the seat has an easy grip handle for transporting the bicycle and supporting young riders as they learn. This bike also has training wheels that remove easily when children are ready to ride.
Read more in our Full 2021 Review of the Schwinn Elm Bike.
Pros
Front and Rear Brakes
Narrow Pedal Positioning
Reliable Schwinn Components
Cons
Heavy Frame
Only Three Color Choices
Plastic Front Basket Is Fragile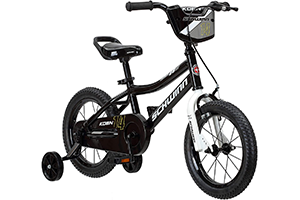 The Koen is a boy bike from Schwinn that fits 36-40" children very well. Schwinn produces an attractive, reliable bike for boys with a coaster brake in the rear and a caliper brake in the front. The seat-tube on this bike has a small angle in it to improve safety and make it easier for riders to hop on and off. The frame is strong steel and it also positions the cranks and pedals forward for easier starting and stopping.
Many boys will find this to be an extremely attractive bicycle with a BMX styling that includes a front mud shield. The bike is available in black, red, and blue with a white front fork that provides additional style. The Koen boys bike comes with removable training wheels and an easily adjustable seat to support your children as they grow. This bike has both a 14 inch wheel version available and a 12 inch wheel version targeting boys 28-38 inches tall.
Read more in our Full 2021 Review of the Schwinn Koen BMX Bike.
Pros
Cool BMX Styling
Front and Rear Brakes
Easy Start Pedals
Cons
Difficult Kickstand
No Allen Wrench Tool For Assembly
Vague Assembly Instructions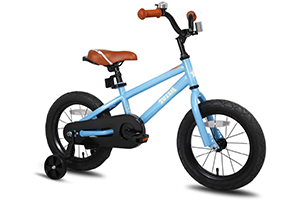 The Totem Kids Bike from Joystar is a very popular bike available in six colors and 12 inch or 14 inch wheels. Kids that are 33" – 41" height should shop for the 12 inch wheels and kids 35" – 47" should shop for the 14 inch wheels. Some of the best parts about this bike are the durable steel frame and the parent assist seat holder to help right children as they learn to ride. Children love that the chain guard has a DIY decal they can decorate on their own and apply to the bike.
The Joystar Totem Kids Bike has a simple design without some of the bells and whistles found on other bikes. The color choices are a bit muted and the tires and chain guard are both black. Coaster brakes are the only option with no hand brake available. The chain guard is all encompassing and does a good job protecting young childrens from the moving chain. The bike comes with training wheels to help little ones quickly learn how to ride.
Pros
Total Chain Guard
DIY Decal
Durable Steel Frame
Cons
Muted Colors and Design
Limited Feature Set
No Front Brakes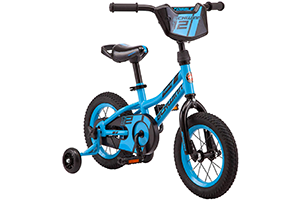 Designed for kids 28" to 38" but suitable for all toddlers age 2-5, the Schwinn Hopscotch provides a safe, sturdy bicycle with 12 inch wheels. The bike has smaller sized grips on the handlebar making it easier for little hands to hold on safely. Parents get peace of mind knowing the bicycle is made by the Schwinn brand.
Read more in our Full 2021 Review of the Schwinn Hopscotch Bike.
Buying Guide: Best 12″ to 14″ Bike for Kids Age 3 and 4 Years Old
When shopping for your child's first bicycle be sure to familiarize yourself with some of many options on the market. Also don't hesitate to include your child in the process and help them find a bike that they get excited about. The bikes on this list come in several designs and a number of unique colors, so take some time to sit down with your son and daughter and show them their options.
Should I buy a bike with a 12" inch wheel or a 14" inch wheel?
Children ages 3 – 5 years old are typically choosing between a 12 inch or 14 inch model. Bicycles at this age use the wheel size to differentiate and parents want to match up their child's height with the proper size wheel. Typically children should shop for a 12 inch wheel bike when they are 34 inches to 40 inches tall and parents should shop for bikes with a 14 inch wheel for kids 37 – 43 inches tall.
Can a 3 year old pedal a bike?
Yes, you will find that children are capable of pedaling a bike at three years of age. Kids that have already mastered a balance bike can start to transition at this age to pedaling on their own. Children at this age might benefit from the use of training wheels to help familiarize them with the pedaling motion.
Conclusion: Top Kids Bike Age 3, 4, and 5 Years Old
Any of the bikes on this list will give kids a great early bicycle that they can learn on and grow into as beginning riders. Few things in childhood match the excitement of getting your first bicycle, and we have worked to provide bike options that any kid can look back on fondly. When shopping be sure to know the current height of your child. Also take some time to know what price point you want to shop at so that you dont spend too much money. Even the lowest cost bikes on this list are worth considering and our smart budget buy is an especially attractive option. Overall just remember to find a bike that your child can get excited about and then be sure to work hard to get them comfortable on it. Soon you will be out riding together!