Babies grow up fast and they quickly move from crawling, to walking, to running. The next big milestone for a lot of children is learning how to ride a bike. One of the best bikes for children to learn on is a RoyalBaby Kids Bike. RoyalBaby has been manufacturing bikes since 2009, and their kids-centric focus results in easy-to-ride bicycles with simple features.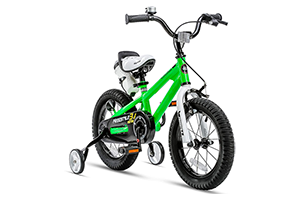 The RoyalBaby Freestyle Kids Bike inch 12 inch or 14 inch wheels is a great starter bicycle for many kids. Preschoolers need a steady bike with good safety features that can help minimize the risk of injury. The Freestyle Kids Bike from RoyalBaby delivers with a dual brake system and a short grip length brake lever that make it easier for little kids to create stopping power. Parents appreciate that the bike arrives almost fully assembled while children enjoy the myriad of bright color choices.
Some of the key features of the RoyalBaby Kids Bike include:
Sturdy frame made of reinforced steel tubes with 1.2 mm thickness.
Straightforward, kid safe design with secure hand grips.
Wide pneumatic air tires with a thickness of 2.4 inches.
Exclusive handlebar brake lever with short grip length for kids.
Dual braking system for increased safety with front caliper brake and rear coaster brake.
Full chain guard.
Anti-slip resin pedal for smooth rotation and a comfortable ride.
Painted in 7 attractive colors with environmentally friendly electroplating and safe paints.
Angle and seat-height are easily adjustable.
The bike has maintenance-free sealed bearing BB parts for a higher drive efficiency and low rolling resistance.
It has a patented stem cover design using downside-4-bolts.
It comes with a kid-friendly, ergonomic, quick-release seat with a saddle bar.
Both training wheels and kickstand are provided.
Distanced, never-bent training wheel legs for young riders safety.
The bike is built in compliance with CPSC and ISO standards.
One-year limited warranty with this bike and free replacement for parts within six months of purchase.
Why is the RoyalBaby Freestyle Kids Bike perfect for young riders?
Parents want to find a bike for their young riders that has a sturdy yet simple design and an easily adjustable seat. You want to create enthusiasm in your child for riding so an attractive and colorful design also helps. The RoyalBaby Freestyle Kids Bike delivers also this and more.
Dual Braking Systems
RoyalBaby is famous for its kid-centric bike design that helps ensure better safety and comfort to facilitate learning. In that spirit this Freestyle kid's bike gets equipped with dual braking systems. A front caliper brake and a rear coastal brake combine to enhance the cycle's safety by giving your child quick stopping power. Avoid unreliable and slow-reacting brakes in a kid's bike, and look for a bicycle with a double brake system to help ensure an accident-free cycling experience for your little riders.
Training Wheels
Another kid-friendly feature of this RoyalBaby Freestyle Kids Bike is the available training wheels. The training wheels come standard and provide safety and support for new riders. As children grow out of the initial learning phase, the training wheels come off easily to give a more grown-up feel to the bike. A kickstand does not come standard but can be purchased separately and attached.
Soft, Adjustable Seat
RoyalBaby Freestyle Kids Bike comes with a soft, ergonomic, and extremely comfortable seat design to make kids feel relaxed while learning cycling. The seat has a quick-release mechanism and adjustable saddle bar so that the bike can grow alongside your child. The seat has about 3 inches of travel when adjusting it up and down.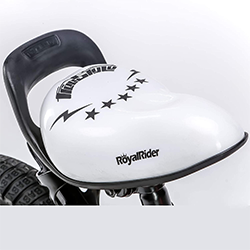 Heavyweight Reinforced Steel Frame
The reinforced steel tube used in RoyalBaby Freestyle Kids Bike is strong and thick making for an especially sturdy bicycle. The 1.2 mm thick reinforced steel tube makes it durable yet adds some extra pounds. As a steel bike it is a bit heavy and that weight can cause some balance and control issues for smaller riders. Some customers complain about the weight causing difficulty for kids when first learning how to ride, but ultimately it adds a lot of durability and significantly increases the bike's useful life.
Variable Wheel Size
RoyalBaby gives parents a lot of options with bikes for 3 and 4 year olds that have either 12-inch or 14-inch wheels. This lets parents start their riders out when they are young. Ultimately it is best for parents to put children into as large of a bike as the child feels comfortable riding so that the bike can be used for several years.
For bigger sized young kids the 16-inch wheel size is an excellent variant of RoyalBaby Freestyle Kids Bike. It is targeted at children between 5-7 years of age, but depending upon a child's height and build it is perfectly suitable for younger children as well. Kids size ranging from 41.3 inches to 53 inches tall can use the 16-inch wheel-sized bike by RoyalBaby.
Attractive Decals
RoyalBaby Freestyle Kids Bike must focus on creating a sharp, attractive look almost as much as it focuses on safety because this is a beautiful bike. Bright colors and catchy decals attract kids' eyes and make learning to ride more fun. A bike bell is also included standard and is another fun feature for kids.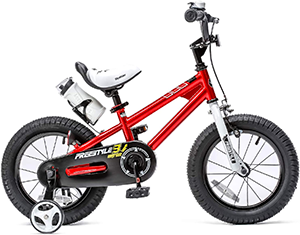 Safety Features
The kids-centric approach of RoyalBaby results in a suite of safety features for your young rider. In addition to the dual brake system and the steel frame, this bike also features a helpful saddle handle that parents can use to push or steady children as they are learning to ride. Underneath the saddle handle is a conveniently placed water bottle holder so that kids can bring a drink along on the ride without it getting in the way. The bike also has front and rear facing reflectors along with reflectors placed on the tires to help keep children safe when riding at night.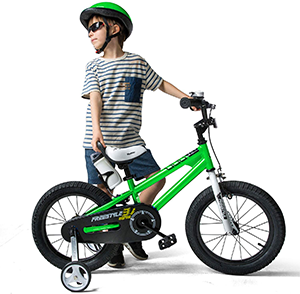 We recommend you buy a safety helmet along with knee and elbow safety pads for your little cyclist. Also, never let your child ride unattended or without safety gear.
Dimensions and Specifications
One of the most significant drawbacks this RoyalBaby kids bike has to offer is that the steel frame is sturdy but heavy. The 12 inch wheel variant weighs 22 lbs and the 14 inch wheel variant weighs 23.3 lbs. At the start, smaller kids can find it difficult to handle and balance this bike due to its heavy weight.
Size:
12 inch
14 inch
Net Weight (Approx)
22lb / 9.9kgs
23.3lb / 10.6kgs
Handlebar Height Range (Approx.
26.3~27.9 inch / 67~71 cm
27.5~29.1 inch / 70~74 cm
Seat/Saddle Height Range (Approx.)

18.5~21.6 inch /
47~55 cm
20~23.1 inch /
51~58.5 cm
Shipping and Assembly
One of the best things about this freestyle bike by RoyalBaby is it arrives at your doorstep 95% pre-assembled. Parents have just five nuts to tighten before kids are on their way. It's merely a five-minute job for a handy person, while a non-specialist may take half an hour at most to get it ready for the first ride. A detailed assembly guide is provided with the bike to simplify the assembly process even further. Customers appreciate the easy and quick assembly feature of this bike.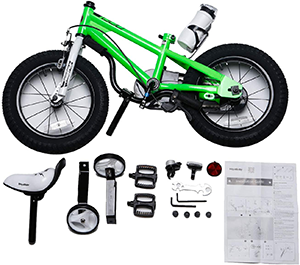 Cleaning and Maintenance
RoyalBaby Freestyle kids bike is made of steel, which is guaranteed to be rust-proof and makes it a low-maintenance, easy-to-clean bike. Keep the bike clean with mild soap and warm water.
Final Verdict
The Freestyle Kids Bike by RoyalBaby is an exceptionally popular bike and it is easy to see why. The majority of customers seem fully satisfied with RoyalBaby freestyle Kids Bike's performance and quality. Some complaints do emerge here and there of a bent tire, locking rear wheel, or deteriorating brakes but overall the bike earns very high reviews.

Kid-friendly handlebar grip
Reliable front and rear brakes
Exclusive short brake lever for kids
Adjustable seat with 3 inches of travel
Beautiful colors and attractive decals
Simple assembly process
Limited lifetime warranty
Training wheels come standard

Heavy due to the steel frame
Smaller training wheels
Questionable durability of some components
More expensive than competitors
The Bottom Line
RoyalBaby Freestyle kids bikes are popular among children and parents. Overall, it's a reasonable value for the money, and most parents recommend it to others without hesitation. Kids love to ride this bike with its child-friendly features and attractive design.
Parents looking for a child's first bike want proper safety features and an easy-to-ride design that helps children stay upright. Kids also need a comfortable bicycle, which boosts their confidence and fuels their excitement to learn cycling. RoyalBaby's newly designed Freestyle Kids Bike for girls and boys delivers all that and more with a strong feature set that satisfies customers.