As your child gets older they transition quickly to a bike that closely resembles yours. By the age of eleven most kids are ready to ride on a more full size bike, and children this age are often most comfortable on a bike with 26" inch wheels. These larger 26" inch wheels position your child higher in the air in a taller riding position that might be uncomfortable at first. It is important for kids to start out slow after making the transition and not ride all out until they are used to the new bike.
Top Kids Bike Age 11 – 13 Years Old
Parents shopping for a kids bike with 26" inch wheels have a lot of options to choose from. With dozens of no name overseas competitors flooding the market it can be hard to separate bikes with strong components from those that offer less durability. Our rankings of the Top 5 Kids Bikes with 26" Inch Wheels focuses on our highest rated bicycles at several different price points so that parents can make an informed purchase decision.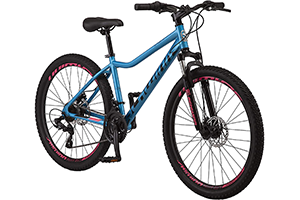 One of the most popular mountain bike options for boys and girls is the High Timber Youth mountain bike from Schwinn. This bicycle has 26-inch wheels mounted on a steel frame, although Schwinn does have an aluminum frame version available that is a bit lighter weight. This bike has twist shifters on the handlebars driving a 21-speed rear derailleur that makes it easy for young riders to learn how to shift gears on steep hills. This bike is designed for riders standing 64" inches tall to 74" inches.
The front fork on this bike has a suspension system that helps absorb bumps. Stopping power comes from v brakes, except on the more expensive aluminum frame model which has front and rear disc brakes included. Schwinn has made the High Timber a very attractive bike with nearly a dozen different frame colors available and sharp, colorful decals covering the seat, fork, and frame.
Read more in our Full 2021 Review of the Schwinn High Timber Youth Mountain Bike.
Pros
Schwinn Dependability
Lots of Color Choices
Comfortable Ride
Cons
Premium Price
No Rear Suspension
Heavy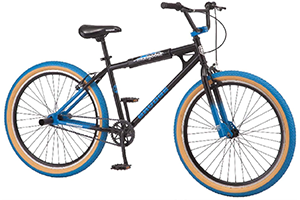 Mongoose gives parents and kids a fun, unique option with the BMX Freestyle Bike. It has only a single speed so kids can feel their power in the pedals. The 26 inch wheels roll great over bumps and pegs mounted on the rear wheels help kids have fun with tricks. The bike uses a caliper brake on the front and a v-brake on the rear for stopping power.
The BMX style frame and fork on this bike make it a lot of fun to ride. It has a sturdy steel frame that can take a beating without feeling loose. The single speed drivetrain reduces complexity and weight from a derailleur. Available in a sharp blue color with matching colored tires.
Read more in our Full 2021 Review of the Mongoose Grudge BMX Bike.
Pros
BMX Style
Strong Frame
Great Design
Cons
Premium Price
One Color
Simple Drivetrain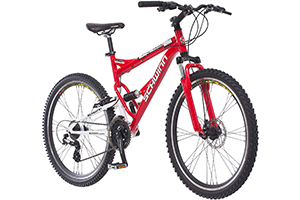 Schwinn delivers a lightweight aluminum frame that is exciting to ride with the Protocol 1.0 mountain bike on 26" inch wheels. The Schwinn Protocol has a full suspension frame to dampen bumps and good travel on the front suspension fork for a comfortable ride. This bike delivers great stopping power with a front disc brake and an alloy V-brake on the rear. The advantage of a disc brake is that it provides stopping power in all weather conditions.
To help riders tackle all terrains the Schwinn Protocol has trigger shifters and a rear derailleur offering 24 speeds. This wide gear range helps your child be successful on challenging trails and long rides. The trigger shifters let young riders move through gears without taking their hands off the handlebar. Other quality components on this bicycle include a strong alloy crank and also alloy rims supporting 26" inch wheels.
Read more in our Full 2021 Review of the Schwinn Protocol Mountain Bike.
Pros
Full Suspension
Lightweight
Front Disc Brakes
Cons
No Color Choices
Premium Price
Stiff Seat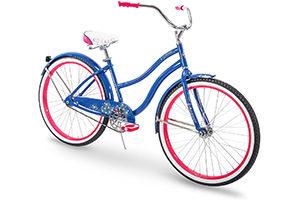 Kids that want something different than a mountain bike can consider riding on a cruiser bicycle. A cruiser bike places the rider farther back with a lower center of gravity for a more comfortable, upright riding position. The handlebars have a swept back design to meet the rider and keep them upright. The best option is the Huffy Cruiser Bike with 26 inch wheels on a steel frame. The bike is designed for riders standing above 60 inches tall.
The Huffy Cruiser has a seat made for comfort with extra padding and dual springs to absorb shocks. The seat also has attractive piping and stitching on it. These embellishments continue onto the fenders and chain guard. Stopping power for this bike is limited to the coaster brakes on the rear wheel. One of the things kids like about this bicycle is that their feet can reach the ground when coming to a stop.
Read more in our Full 2021 Review of the Huffy Cruiser Bike.
Pros
Upright Position
Comfortable Seat
Easy Assembly
Cons
Premium Price
Slower Speeds
Limited to Paved Roads
Buying Guide: Best 26" Inch Bikes
Bicycles with 26 inch wheels are much more fully featured than the smaller bikes that your child has ridden in the past. These large bikes more closely resemble your bike with 20+ gears, suspension systems, and big stopping power from disc brakes.
Bicycles have different types of bike brakes available including v-brakes or caliper brakes, coaster brakes, and disc brakes. The simplest form of bike brake is a coaster brake, which creates stopping power by having the rider pedal backwards on the chain. This is probably the first type of brake your child got experience with and some 26" bikes like cruisers will still use coaster brakes. More typical on this size bike is the v-brake or caliper brake, which uses pressure pinching the wheel to stop the bike. These brakes are reliable except for in adverse weather conditions when the bike wheel can become slippery and difficult to pinch. With ill weather the best option is a disc brake. The disc brakes are most commonly found on the front wheel but at some higher price points they are available on both tires. The disc brake works similarly to the brakes in your car by having a pad press against a disc to stop the bike.
Parents can make a good purchase decision by first taking the time to understand how their child will be using the bicycle. Will your child be using the bike more on dirt paths or on paved paths? Will they be going out on short rides or on longer rides? All of these considerations can influence the type of bike you should focus on. It is important to get a bike design that competents your childs riding style.
Conclusion: Best Bike for 11 to 13 Year Olds
Kids that are ready for a bike with 26" inch wheels have a lot of options to choose from. Hopefully these ratings and reviews are helpful as you try to narrow down your choices. Remember to focus on a bike that excites your young rider because the main emphasis is to get them out riding.