For parents whose children have taken an interest in mountain biking, one of the best options available is the Schwinn Protocol 1.0 Full Dual-Suspension Mountain Bike. This bicycle is a durable and reliable bike with a great look and feels that will match your child's enthusiasm for riding.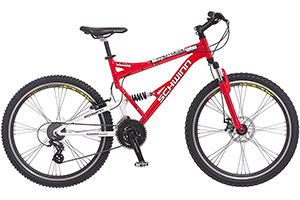 Mountain biking doesn't require a full suspension but for young riders looking to push their limits, it is a great way to support them and provide them a safer experience. This bike adds other solid safety features like dual disk brakes and a 24-speed gear shifter. Kids and parents both find that there's a lot to love about this bike.
Key Features of the Schwinn Protocol 1.0 Bike
Aggressive, off-road style.
Front disk brakes.
Strong and lightweight aluminum body.
24-speed gear shifters.
Dual suspensions.
Strong, light rims.
Limited required maintenance.
Aggressive rider posture.
Easy Assembly.
What makes the Schwinn Protocol 1.0 Bike unique from the other kids' cycles?
Riders jump onto this bike and quickly realize that it is built with the user experience as its prime goal. The bike has an aggressive stance that is ready to roll and a myriad of smart features that keeps the user upright and comfortable over varied terrain.
Sporty Design: The bike is very sporty and the rider's posture while riding is pitched forward and aggressive.
Comfortable Ride: Features like the easy seat height adjustment help riders tailor the experience to something that works for them.
Gear Shifting System: With 21 gears this bike can roll easily up and down hills or over varying terrains.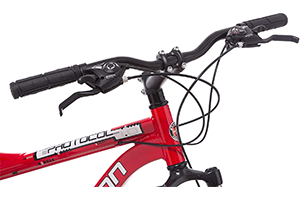 Main Details
Schwinn designed the Protocol 1.0 with an eye-catching design that looks strong and aggressive. The bike is very sporty and the inclined front bar joins the handlebar and the seat. The rear suspension system sits in the center of the bike above the crank and broadcasts the riders intent to hit the trails hard. The rear bike frame is painted a contrasting color to differentiate it from the front and make the bike look more compact.
Is the Schwinn Protocol 1.0 a good mountain bike? 
This bicycle has several features that help it over perform on the trails. One of the best is the front disc brake, which generates a tremendous amount of stopping power, and is complemented by an alloy v-brake on the rear.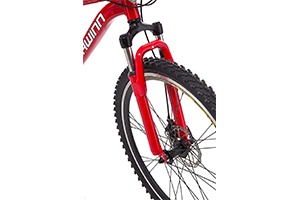 The full suspension frame absorbs all the bumps on the road. The front suspension fork has good travel and the dynamic rear suspension means even sharp downhill routes won't dislodge the bike from underneath you.
Shifting on this bike is controlled by Shimano EZ-Fire shifters and a Shimano Altus rear derailleur. These components give you access to 24 speeds so even young riders can tackle the tallest hills and the steepest descents.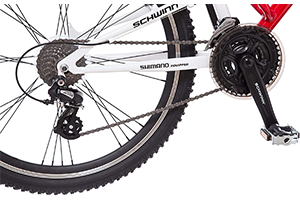 Is this a durable mountain bike? 
The bike is made of strong aluminum so it is sturdy while still being lightweight. Schwinn has a good reputation for quality bikes and parents can shop confidently knowing that it will hold up over time. The components of the bike come from reliable manufacturers with the shifter and derailleur coming from Shimano and the front disc brake provided by Promax. A full suspension frame with a front suspension fork inevitably adds some additional complexity to the bike and that can reduce long-term reliability but overall this is a very solid build. Parents also get peace of mind knowing that it is backed by Schwinn's lifetime warranty.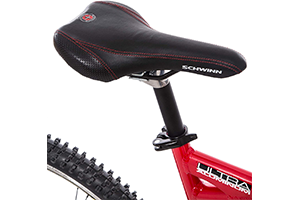 When customers do run into trouble with this bike it often comes from shipping. Otherwise, parents who review the bike are overwhelmingly satisfied with it. Trouble for a few riders has developed in clicking pedals and quickly deteriorating brakes.
What size rider fits on this bike?
Schwinn targets this bike at riders standing 5'4" to 6'2. The seat is easily adjustable to accommodate growing kids. The bike is built to give young riders an edge while mountain biking so the wheelbase is a bit longer at 26 inches.
Due to its varied components, this bike is a bit heavier than its competitors as it weighs about 40 lbs.
Shipping and Assembly
This bike is shipped almost fully assembled from the factory in a package weighing about 43 lbs. Parents find that assembly of the bike is extremely easy, as the package comes tailored from the company to be able to be put together with little-to-no effort.
Some customers have experienced problems with damage that occurs during shipping or ripped boxes resulting in missing components. Schwinn offers customers strong support when these situations do occur.
How easy is it to clean and maintain the Schwinn Protocol 1.0 mountain bike?
With a strong body made up of aluminum, this bike won't rust and it is easy to clean with mild soap and warm water. Since the bike does have several valuable components, riders will want to take some special care when cleaning around the shocks and the disk brake. These components are sturdy, but it is still best to use a lighter touch when scrubbing them clean.
What are the best accessories for the Schwinn Protocol 1.0?
The wheels on this bicycle do not have mudguards, which is the price to pay for a sporty-looking bike. Adding a rear mudguard to the bike will make sense for riders that spend the entire day out in the dirt.
For safety reasons, it is always important to attach the good front and rear lights and reflectors to your bike before riding at night. Also, a good quality helmet is a key to keeping your bike rider safe.
Final Verdict
Young riders that want a full suspension bicycle with disc brakes should check out the Protocol 1.0 from Schwinn. This bike is sporty looking and lightweight. It has solid components on it from front to rear and it is all backed by a strong Schwinn warranty.

Aluminum dual-suspension frame
Extremely easy to assemble.
Modern and light design.
24 Speeds
Has great brakes.
Shimano EZ-Fire Trigger Shifters
Shimano Altus rear derailleur.
Promax Front Disc Brake
Rear alloy linear-pull b-brake

Limited Colors
Not everyone is a fan of the aggressive rider posture.
Weighs about 40 lbs
Shipping problems
Final Thoughts
For kids that are ready to step up to a proper mountain bike, the Schwinn Protocol 1.0 is a solid choice. With an aluminum dual-suspension frame backed by a Schwinn and solid components from Promax and Shimano, this bike delivers a strong build that will roll smoothly over the dirt, mud, or pavement. Young riders can take this bike on the trail and feel confident that the bike will stay underneath them and keep rolling.