Kids ages seven and eight will probably be most comfortable riding on a 20″ bike. These bikes with their bigger wheels can go faster and maneuver better over obstacles, so kids will feel the change when riding on them for the first time. These bikes might feel big when your child rides in them but with children growing so quickly at this age it won't be long before it is too small for them.
Best Kids Bike for Children Ages 7 and 8
Bikes this age are still often targeted at either boys or girls instead of unisex models. These are some of the last models where you child can indulge in cartoonish designs so if they want to have fun let them, but also a lot of kids this age want a bike that starts to look more like the bike their parents ride or their big siblings ride. Talk to your child about the bike they can imagine riding and try to find a bicycle that gets them excited.
There are a lot of bicycles for parents to choose from, so for this review we focused on our Top 6 Bicycles for children Ages seven and eight years old. These bikes all scored well in our ratings and reviews and together this list provides parents a good look at the best options in the market across various price points.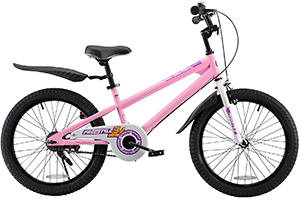 One of the best selling bikes online is this RoyalBaby Freestyle bicycle and it is easy to see why with its great balance between price and quality. This bike provides kids with a safe, sturdy steel frame on large 20 inch wheels that maneuver easily over bumps in the road. The bike has a nice feature set like included mud guards but it does not go overboard and instead focuses on providing a steady, reliable biking experience.
RoyalBaby recommends this bicycle for children that range from 53 inches tall to 65 inches in height. The bike has front and rear wheel caliper brakes that provide ok stopping power. A bell and kickstand are also included. Parents report that assembling the bike is easy with the included instructions. This bicycle is available in seven attractive colors ranging from masculine reds to feminine fuchsia colors to more neutral colors like white.
Pros
Great Color Choices
Priced Right
Easy Assembly
Cons
Ok Brakes
Heavier Frame
Questionable Durability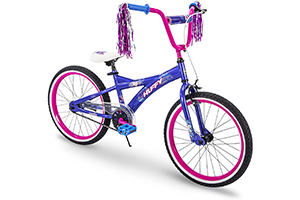 Huffy has a strong reputation for producing solid, reliable children's bicycles and parents of seven to eight year olds should give their product line some consideration. Huffy makes the Ignyte bike for young boys and for little girls they make the Go Girl, but basically they are the same bicycle. Both bikes share a strong steel frame and couple that with front hand brakes and rear coaster brakes for stopping power.
The design on these bikes is outstanding with strong color choices and attractive decals. Both bikes also sport translucent bike chain guards and matching color handlebars. The colored rims on the large 20 inch wheels help complete the look and also keep kids rolling over obstacles in their way. The girls edition adds multi color shimmery streamers that attach to the handlebar while the boys version adds front tire pegs to help kids experiment with bike tricks.
Read more in our Full 2021 Review of the Huffy Kids Bike.
Pros
Great Designs
Strong Colors
Reliable Quality
Cons
Premium Price
Confusing Assembly Instructions
Cheap Pedals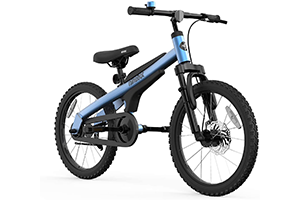 Segway is most famous for their motorized scooters but here they bring that same ingenuity to this uniquely designed kids bike. The Segway Ninebot 18 inch bicycle is ideal for children standing between 48 inches tall and 57 inches tall. This bike provides an especially comfortable ride with its front suspension and it delivers strong safety features like a padded frame and a fully enclosed bike chain.
The best part about this bicycle is the frame. Segway uses an aerospace grade aluminum alloy to deliver a sturdy frame that is exceptionally lightweight. The Ninebot has coaster brakes on the rear wheel and a hand brake on the front wheel. The front disc brake provides great stopping power and added safety. Segway also uniquely makes the hand brake adjustable so that parents can move it in closer for smaller hands. This bike does not include training wheels but it does have a kickstand. It is available in red or blue and some minor assembly of the bicycle is required.
Pros
Lightweight
Front Suspension
Aluminum Frame
Cons
Expensive Bike
Futuristic Styling
Muted Color Choices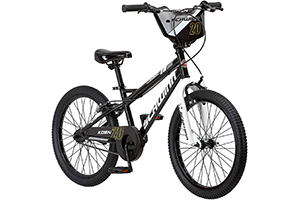 The Koen is a boy bike from Schwinn that fits great on children 48-60" inches tall. Schwinn reliably produces attractive boys bikes and Koen has a great look and feel with its angled frame. The frame is strong steel and it also positions the cranks and pedals forward for easier starting and stopping. Stopping power comes from caliper brakes on the rear and the front.
Kids love the look of this bike with a welded frame and front mud shield. The bike is available in black, red, and blue with a white front fork that provides additional style. The Koen boys bike comes with an easily adjustable seat to support your children as they grow. This bike is also available in several smaller versions but boys this age should likely be shopping for the Koen boy bike with 20 inch wheels.
Pros
Cool Styling
Front and Rear Hand Brakes
Easy Start Pedals
Cons
Difficult Kickstand
No Allen Wrench Tool For Assembly
Vague Assembly Instructions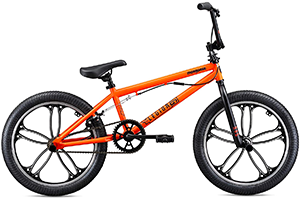 A great option for parents of seven and eight year olds is also one of the best beginner BMX bikes on the market. The Legion Mag Freestyle bicycle from Mongoose has a sturdy steel frame and tough aluminum 20" inch wheels that look great and can take a beating. Head to the sidewalk or the bike park with this bicycle and have a lot of fun.
As a BMX bike the Legion Mag Freestyle sports some unique features like 4 freestyle pegs attached at the wheels to unleash tricks potential. Friends also have a lot of fun just riding around on the back of these bikes by standing on the pegs. The handlebars on this bike can spin 360 degrees thanks to the cable detangler, which makes it easy to access the rear U-brakes for stopping power. Mongoose has a suggested rider height on the Legion of 56" inches to 64" inches.
Read more in our Full 2021 Review of the Mongoose Legion Mag BMX Bike.
Pros
BMX Style
Tricks Pegs Included
Strong Steel Frame and Fork
Cons
No Front Brakes
Less Comfortable Seat
Less Upright Riding Position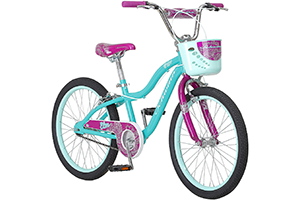 Some little girls might have learned how to ride a bike on the smaller 12 inch Schwinn Elm, and if so they might love heading out for a nice ride to the park on the bigger 20-inch wheel Schwinn Elm Bike. Designed for seven to eight year old girls standing 48 – 60 inches tall but suitable for all young riders, this bike has Schwinn's SmartStart Technology to make stopping and going easier for little kids. SmartStart Technology from Schwinn helps kids get comfortable riding bikes with cranks and pedals positioned forward and closer together. This bike brakes using a coaster brake in the rear and a front caliper brake.
Girls will enjoy the cute front basket on the Schwinn Elm Bicycle and they will also like choosing from the three colors – teal, pink, and purple. The seat on this bike adjusts easily so kids can even do it on their own, and the seat-tube is angled down for making it easier to get on and off the bike. Parents will like that the seat positions children upright in a strong riding position and effectively supports young riders as they learn. This bike also has a kickstand included.
Pros
Front and Rear Brakes
Narrow Pedal Positioning
Reliable Schwinn Components
Cons
Heavier Frame
Only Three Color Choices
Plastic Front Basket Is Fragile
Buying Guide: Best Bike for 7 – 8 Year Old
It can be hard for parents to ship for a kids bike. There are a lot of options from many different manufacturers and it can be hard to sort through them. Parents should take their time and look for a bike that their child can get excited about.
How much should I spend on a bike for my kid?
Is this bike a hand me down or a use me up? If there are little brothers and sisters waiting for their chance to use this bike one day then it makes more sense to invest a bit more in a more durable offering. Otherwise most kids bikes will take a beating and also not last long as your child outgrows them so parents are wise to avoid overpaying.
What is the best bike for my eight year old?
That depends on your eight year old! How do you imagine them using the bike? If it is riding to the park with girlfriends or hitting dirt trails with the boys that will seriously impact what the right bike is. Take some time to consider how your child will use their bicycle and that will eliminate a lot of the choices and help you narrow down the best bike. From there you can figure out how much you want to spend on the bike and make a purchase choice.
Conclusion: Top Bikes for 7 and 8 Year Olds
Remember when shopping to focus on finding a bike that your child can be excited about. Your job as a parent is to pump them up with enthusiasm for biking and help them get over the learning curve and comfortable riding the bikes. Every new bike is an adjustment and for kids this age there can be a big step up in size when moving to a 20 inch wheel. Be sure your kids take it slow with their new bike as they get familiar with it. Soon enough the whole family can be out riding together and it can be your little one leading the way.