Some boys are always out looking for adventure be it on the trails, in the dirt, or even on the hillsides. These kids enjoy aggressive-looking bikes and the idea of pushing their limits on every ride. A BMX freestyle bike with 20-inch wheels is perfect for kids ages seven to nine years old who have this mindset and are interested in exploring off-road trails and riding tricks.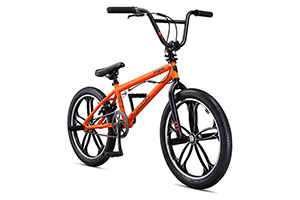 The Mongoose Legion Mag Freestyle BMX Bike for Kids is a good option for parents to consider. This bike is built for kids ages 7-9 years old and is available in popping colors like red, orange, and green. The bike has a BMX design with a low-slung seat that makes it durable and safe. A dual-brake system delivers extended stopping power to the rear wheel while attractive alloy-mag wheels stand out. Mongoose has built a solid bike for young riders interested in BMX biking.
Key Features
The Mongoose Legion Freestyle Sidewalk Mag BMX Bike for Kids has a wheel size of 20-inches and is a good choice for kids looking for a BMX style bike. Let's look at some of its main features.
Made from Hi-Ten steel, ensuring durability.
Equipped with a reliable and efficient U-brake for the back wheel and a caliper brake. This dual brake system adds extra safety and allows precise stopping.
Durable bike suitable for kids 7-9 years of age.
Comfortable 7.75″ handlebars for effortless control while riding.
Comes with an easy-align head tube and simple screw-on pedals.
Bike has a 40x16T gearing system and a robust one-piece steel 170-millimeter crank to ensure a simple yet enjoyable ride.
Reasonable trick potential with the inclusion of four freestyle pegs.
The bike is equipped with a cable detangler for 360° handlebar spins.
Available in seven popping, bright colors suitable for both boys and girls.
Nice 20-inch freestyle aluminum mag wheels furnished with sealed bearings.
Flashing silver glimmer on wheels adds to the look.
Comfortable padded seat with decent width for relaxed seating.
A 170mm one-piece forged steel crank.
20-inch tires with a 2.3-inch diameter give good road grip.
Limited lifetime warranty, general and parts.
What details about this bike do parents need to know?
Durability, safety, and convenience are the most vital features to keep in mind when shopping for a kid's bike. For years, Mongoose has been a trusted manufacturer of a range of child and adult bikes. Parents can be confident that their strong commitment to safety impacted the design of the Mongoose Legion Freestyle Sidewalk Mag BMX Bike for Kids.
Hi-Ten Steel Frame
The Hi-Tensile steel frame used in the Legion Mag makes it a lighter-weight bike that cruises naturally down the street and is easy to control and balance. The steel frame makes for an especially sturdy bike, and the extra stability is helpful if your growing child decides to try some basic bike tricks.
Mag Wheels
For anyone looking for Mag wheels, this Legion Mag BMX Bike for Kids is the answer. Having cast aluminum mag wheels and sealed bearings makes this one of the most stylish and coolest bikes on the block. Children enjoy riding this bike around and trying to perform freestyle tricks, flaunting the flashing silver glimmer on their wheels with 20-inch tires.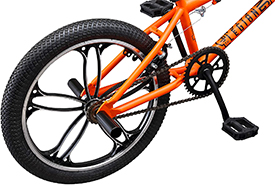 Frame and Fork
The bike features a low-stance design and geometry to offer a reliable and responsive ride with a BMX feel. Children sit closer to the ground on this bicycle, and they will naturally feel a bit more comfortable on it because of that. The bicycle also includes four freestyle pegs that offer unlimited trick potential.
Reliable Brakes
The Mongoose Legion Mag BMX is equipped with rear u-brakes made out of enduring alloy to offer a secure stopping feature without degradation. The bike also has alloy caliper brakes to add to your child's stopping power. This bike is a safe option because of this dual brake system, particularly for growing kids seeking a smooth transition from a little kid's bike to a grown-up teen's bike.
Drivetrain and Chain ring
Mongoose Legion Mag Freestyle BMX bike is equipped with 40x16T gearing. It has a durable one-piece 170-millimeter crank made of forged steel to offer simple, single-speed comfortable riding. Since it is a BMX style bike your child will feel a solid connection with the road beneath him through the pedals.
Single-Speed
The bike is a straightforward, easy-to-learn one-speed bike. Riding a single-speed will allow your child to concentrate on mastering the art of riding without any unnecessary complication or confusion from changing gears.
Handlebars and Stem
The 7.75″ handlebar is made of hi-tensile steel. The four-bolt front-load stem, made of durable alloy, clamps bars tightly and securely. It has a 1-inch threaded headset too. The bike is equipped with a cable detangler allowing for 360-degree handlebar spins.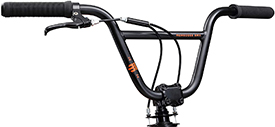 Dimensions and Specifications
This bike is rather compact and easily manageable weight. The bike weighs approximately 32 pounds. It is recommended for riders standing between 4'8" tall and 5'4". The horizontal tube is 519 mm long and the chain stay length is 365 mm. The bike sits on 20-inch wheels and has a stand-over height of 565 mm.
Shipping and Assembly
The bicycle has a shipping weight of around 39.5 pounds. It comes unassembled and requires an adult to complete the assembly. Mongoose claims easy assembly of the bike, but a number of customers found the assembly process confusing and tedious. Customers complain that the assembly guide provided with the bike is confusing since it is very general and covers three or more different models. A few users reviewed that the bicycle was missing parts like screws and nuts that hindered the assembly process.
Cleaning and Maintenance
Mongoose has used a rust-proof Hi-Ten steel BMX frame for manufacturing this bicycle and the result is an easy-to-clean, low-maintenance kids bike. Your child doesn't have to put any extra effort into keeping this bicycle in good condition and the occasional washing with mild soap and warm water will have it looking good as new.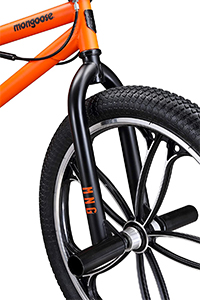 Customer Reviews
Parents have mostly positive reviews about the quality, safety, and value of this bike. There are a handful of not-so-satisfied customers with a couple of parents complaining about issues like bending of the front wheel and fork (probably due to shipping), pedals being very close to the seat, grinding noise from the central hub, and a hand brake better sized for small hands. These reviews tend to be the exception and most parents seem quite happy with their purchase.
Final Verdict
Overall, this bike from Huffy provides kids with a solid, sturdy BMX bike that is comfortable going down the sidewalk or up over bumps. The Legion Mag is easy to ride and attractive with large 20-inch wheels mounted on cast aluminum mag wheels with sealed bearings.

Suitable BMX Type Bike for Beginner-Level Riders
Sturdy & Solid
Hi-Tensile Steel Frame & Fork
Single-speed with 365mm Chain Stay Length
Alloy Mag Wheels with Sealed Bearings
Seven Attractive Colors
40T Steel Chain ring
170 mm One-Piece Forged Steel Crank
Four Freestyle Pegs included
Brake Cable Detangler for 360-degree Handlebar Spins
Aluminum U Hand Brake
Padded Comfortable Seats
Aluminum Magnesium Rims
Limited lifetime warranty
Maximum Weight Capacity 250 pounds
Good value for money

Less Upright Riding Position
Less Comfortable Seat
Confusing Instructions and Difficult Assembly
Some Concerns About Complaints Regarding Bent Front Forks
The Bottom Line
The Legion Freestyle Sidewalk Mag BMX Bike for Kids combines Mongoose's trademark durability and approach to safety with a slick BMX design style. The bike rides well and looks great with big 20 inch tires mounted on attractive wheels. This bicycle is a good deal given its price tag considering that Mongoose has been synonymous with BMX for decades and the company has retained the people's trust in their bikes. It's a sturdy, durable, and safe transition bike for kids seven to eight years of age.