Children ages nine to ten years old often fit best on a bike with 24" inch wheels. These bikes can be a big step up from the smaller kids bikes that your son or daughter first learned to ride on. Larger, 24" inch wheels make the bicycle a lot faster and more maneuverable but also moves the rider up higher off the ground. Kids will often need some support during the change up to a 24" inch bike but once they are comfortable riding them it opens up a new world of longer rides.
Best Kids Bike for Nine and Ten Year Olds
Parents shopping for a bike with 24" inch wheels have a lot of choices. At this age the bicycles have started to deviate in design between boys and girls bikes with the frames often angling lower for girls so that they can easily get on and off. Kids also start to have choices between road bikes and mountain bikes and cruisers and their different riding styles.
On this review we are focusing on our Top 5 Bikes for Nine and Ten Year Olds. The bikes on this list earned some of our highest ratings and parents can shop confidently. Remember to focus on a bike that your son or daughter gets excited about so that their enthusiasm carries over into lots of bike rides.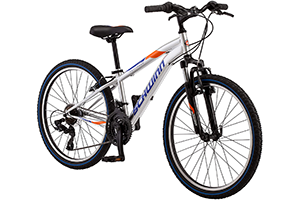 The High Timber Youth mountain bike from Schwinn is one of the most popular options for boys and girls ready to move up from a kids bike to a larger model. This bike has 24-inch wheels mounted on a steel frame, although Schwinn does have an aluminum frame version available that is a bit lighter weight. This bike has twist shifters on the handlebars driving a 21-speed rear derailleur that makes it easy for young riders to learn how to shift gears on steep hills.
The front fork on this bike has a suspension system that helps absorb bumps. Stopping power comes from v brakes, except on the more expensive aluminum frame model which has front and rear disc brakes included. Schwinn has made the High Timber a very attractive bike with nearly a dozen different frame colors available and sharp, colorful decals covering the seat, fork, and frame.
Read more in our Full 2021 Review of the Schwinn High Timber Youth Mountain Bike.
Pros
Schwinn Dependability
Lots of Color Choices
Comfortable Ride
Cons
Premium Price
No Rear Suspension
Heavy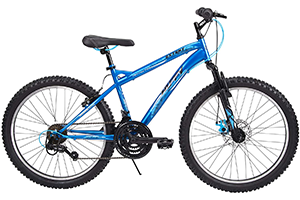 The Extent kids bike from Huffy is a strong, durable bicycle that can last a family for years. The bike has 14 inch wheels mounted on a steel frame. Stopping power comes from a V brake in the back and a disc brake on the front wheel. Gear shifters provide riders with 18 gears to help conquer hills and the twist-shifting system is easy to learn. Kids can grow into this bike and use it for years but it is ideal for children standing 56" inches tall to 68" inches tall.
This is a big bike that can intimidate kids moving up from a bike with 20" inch wheels. The hardtail frame and quality of the components, including a shimano rear derailleur, help make this a durable bike that will last. The frame has a limited lifetime warranty and kids can choose from a masculine royal blue color or a more feminine purple color.
Pros
Front Disc Brake
Tall, Upright Riding Position
Front Suspension
Cons
Hardtail Frame (no rear suspension)
Vague Assembly Instructions
Just Two Color Choices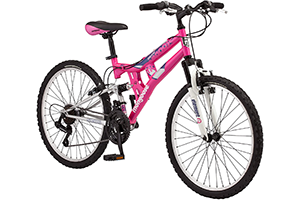 Mongoose gives girls a full suspension option with the Exlipse mountain bike on 24-inch wheels. The bicycle has a strong steel frame that hinges at the crankshaft to provide a spring supported rear suspension. The Exlipse has alloy wheels with 24" inch tires and it navigates easily over bumps in the road. A shimano rear derailleur provides riders with 21 speeds to overcome any hills or obstacles on their path. Stopping power comes from linear pull V brakes on the front and the rear.
The Mongoose Exlipse is a great looking bike with a sharp pink color frame. The front fork is white and the rear is chrome which frames the pink color with great contrast on each side. The 3 piece crank is black. Mongoose has a great reputation for building durable bikes at home in the dirt so girls can confidently ride this bike hard and expect great results.
Read more in our Full 2021 Review of the Mongoose Exlipse Mountain Bike.
Pros
Full Suspension
No Water Bottle Holder
Durable Components
Cons
No Disc Brakes
One Bike Color
Loose Suspension
Kids that want a rugged mountain bike ready for the trails should look at the Vertical Alpine Eagle mountain bike by Dynacraft. This dual suspension bicycle on 24" inch wheels cruises over bumps and gives kids confidence to bike off road. The front fork suspension has good travel for riding on dirt paths. Heading up hills is easier with shimano grip shifters delivering 18-speeds and heading down hills is safe with front and rear caliper v brakes.
The yellow and black paint job on the Vertical Alpine Eagle looks great and blue accents stand out nice on the suspension. The saddle is comfortable and the seat post adjusts easily so that children can do it themselves. This Dynacraft mountain bike positions kids in a strong, upright position for biking.
Pros
Full Suspension
Shimano Grip Shifters
Rugged Durability
Cons
No Disk Brakes
One Color Choice
Cumbersome Assembly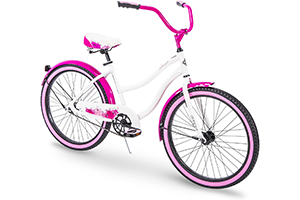 Parents that don't want to put their kids on a mountain bike can consider a cruiser. One of the best options is the Huffy Cruiser Bike with 24 inch wheels on a steel frame. The bike is ideal for riders standing 58-70 inches tall but enjoyable for all kids. A cruiser bike places the rider farther back with a lower center of gravity for a more comfortable, upright riding position. The handlebars have a swept back design to meet the rider and keep them upright.
The seat on the Huffy Cruiser is made for comfort with extra padding and dual springs to absorb shocks. The seat also has attractive piping and stitching on it. These embellishments continue onto the fenders and chain guard. Stopping power for this bike is limited to the coaster brakes on the rear wheel.
Read more in our Full 2021 Review of the Huffy Cruiser Bike.
Pros
Upright Position
Comfortable Seat
Lots of Colors
Cons
Premium Price
Rigid Ride
Limited to Paved Roads
Buying Guide: Top Bikes for Nine and Ten Year Olds
Nine and ten year old bike riders can choose between several different bike designs. It is important that they reflect a bit on how they will use their bike and if most of their riding will come on paved roads or dirt trails. Purchase a bike that supports how you intend to use it and you will be much more comfortable on your rides.
Who are the best manufacturers of kids bikes?
Shopping online for kids bikes is difficult because a flood of cheap, overseas manufacturers have entered the market. It can be hard for parents to discern between a quality kids bicycle and one covered in shoddy components. In our ratings and reviews of the best 24" kids bike we have found a few manufacturers rise above the rest:
Schwinn – Founded in Chicago back in 1895, this bike company rose to the top of the bicycle industry and dominated for years before falling into bankruptcy in 1992. It has reemerged as a strong national brand but the bikes are now manufactured overseas.
Huffy – Another brand with deep midwest roots is Huffy, which started in Dayton, Ohio way back in 1924. Much like Schwinn this bike company had huge heydays but has since struggled and now manufactures all of its bikes in China.
Mongoose – Mongoose bikes was founded in a Southern California garage in 1974 and focuses on bikes that can tackle dirt, trails, and ramps. Riders with a BMX focus often shop for a Mongoose.
Conclusion: Best Bikes for Nine and Ten Year Olds
As kids get older they will keep their bikes longer so parents can invest a little more and still get their money's worth. Bikes at this age will also start to offer more features like multiple gears and braking options. Ultimately it is important to find a bike that your child is excited about and will use. Involve them in the process and help them choose a bike that fits them.