Children can start learning how to master a scoot bike as soon as they are stable on two feet. Scoot bikes give kids a tremendous advantage when learning how to ride a bike later on because it teaches them the basics of balancing on two wheels. Giving your young riders a head start with a scoot bike is one of the best ways you can set them up to be successful on two wheels.
Best Bikes for Toddlers
When shopping for a scoot bike be sure to find a strong, solid bicycle that will give your child confidence. You want to give your toddler their best possible chance for success so that they have fun on the balance bike and gravitate back towards it in the future. Work to make your child's balance bike something exciting and interesting so that they can get over the learning curve and get to where the balance bike is fun.
There are lots of choices for parents to consider when shopping for a balance bike or scoot bike. These ratings and reviews of our Top Balance Bikes for Toddlers provide good options at various price points.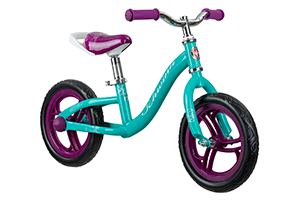 Parents shopping for a durable scoot bike have a great option available with the Schwinn Elm Girls Bike for Toddlers. This all steel frame can hold up over time and helps position new riders in an optimal cycling stance. It is low slung so that even the littlest kids can easily mount the bike and go for a scoot. The bike frame also tapers towards the rear to help kids avoid nipping their ankles while scooting. The bike has 12-inch wheels filled with foam to provide a smooth ride and be maintenance free.
This scoot bike is designed for riders that are approximately 28 inches to 38 inches tall. The seat on this scoot bike adjusts easily using a quick release seat collar so that parents can move the seat up as children grow. The bike also uniquely offers a saddle handle on the rear seat that allows parents to monitor the rider and also to conveniently haul or store the bike. This bike does not come with training wheels. The bike is available in either teal or pink.
Pros
Saddle Handle
Schwinn Components
Sturdy Frame
Cons
Heavy
Wide Rear
Handlebars Don't Adjust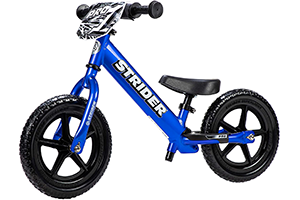 The brand name parents have grown to love when thinking about scoots bikes is Strider and this Strider 12 Sport balance bike delivers with high quality features that help your little one get moving. This bike is shockingly lightweight compared to previous models with an aluminum alloy frame that is sturdy but makes the bike especially easy to maneuver. The bike only weighs about 5 lbs! It also comes with a 2 year factory warranty to give parents confidence about its durability.
Help your child master bike riding skills fast with this natural approach to building the balance and coordination necessary to pedal on their own one day. Keeping kids under their own power helps minimize how badly they can hurt themselves, and this balance bike also improves safety with a padded seat and an extendable seat post that keeps kids scooting from a proper position. Parents also enjoy the tool free assembly that helps kids quickly get rolling.
Pros
Top Quality
Lightweight
Great Design
Cons
Expensive
No Saddle Handle
Loose Steering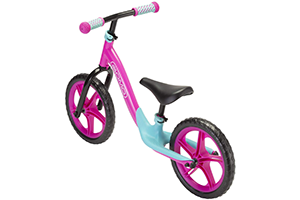 Parents looking to save a little money have a great option in the GOMO balance bike for toddlers. It is available in five great colors and has a solid steel frame for extra durability. Unfortunately that sturdy frame makes this bicycle a bit heavy. In some places the frame has a plastic covering to make it smoother and less likely to scrape little ones during falls.
Parents like that this bike has a turn limit on the steering to give kids more control and help prevent them from 'jackknifing' the wheel backwards. It has 12" inch wheels that are foam filled. This bike has a budget price and a strong two year warranty so parents can purchase with confidence.
Pros
Budget Price
2 Year Warranty
Great Color Combinations
Cons
Heavy
Foam Tires
No Saddle Handle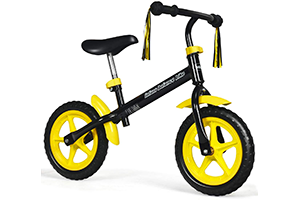 This Infans balance bike is one of the least expensive options on the market for parents to consider. It costs less than competitors but is also lacking a handful of helpful features that kids and parents enjoy. The straight frame is a bit more difficult to step over than other bikes. The front wheel can rotate 360 degrees so children have to be careful not to let it jackknife on them. There are also mud flaps on these tires which might look good but can get in the way as your child is learning how to scoot.
Pros
Budget Price
Great Colors & Design
Adjustable Handlebars
Cons
Awkward Frame
No Saddle Handle
Loose Steering
Buying Guide: Best Bike for 2 Year Olds and Toddlers
With lots of options on the market, parents shopping for balance bikes should shop carefully. Some balance bikes come for a great low price but offer a heavier steel frame. Other bikes are more expensive but lightweight.
What age is best for a balance bike?
Children over 15 months of age are usually ready to mount a balance bike and start scooting around. It can take some practice before kids are moving around on their own, but with a little tutelage your child can quickly start to move. Mastering the balance bike skills is a big step towards learning how to ride a bike.
Are balance bikes any good?
Yes, with a balance bike your child will learn how to keep a bike balanced underneath them. As they get stronger and can push it forward they get great experience steering and feeling the wheels rolling over bumps.
Are scoot bikes better than training wheels?
Scoot bikes help teach children balance while training wheels are more helpful at teaching children the pedal mechanics. Ultimately the training wheels provide children more assurance but are less necessary when learning how to ride. Once children master the balance involved in a scoot bike they will likely be able to learn how to ride a bike without needing training wheels.
Are balance bikes a waste of money?
Definitely not! Getting kids outdoors riding on their bikes is one of the most rewarding activities parents can give their children. Bikes provide a wonderful sense of freedom and responsibility. Balance bikes help start to nurture that love of biking and also teaches important skills necessary later on as they start to ride bigger bikes.
Conclusion: Best Scoot Bike or Balance Bike
It is exciting when little kids start their journey towards learning how to ride a bike. A scoot bike is a wonderful way to give a child their first bike and begin the process of learning. It is not an easy learning curve but with parental support any child can master the balance bike and find a new sense of freedom scooting around.