For many youngsters, biking is an essential part of life and one of the first real gateways to freedom. Kids who embrace that and are looking for the next step in biking might want to try out riding on varied trails and terrains. A mountain bike is one of the most versatile biking options and a perfect one for nine and ten-year-olds is the Mongoose Exlipse on 24-inch wheels.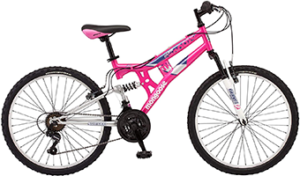 Mongoose is a California bike brand that has been making BMX bikes since the 1970s. They have a great reputation for building solid bikes that can take a beating. The Mongoose Exlipse is one of their best mountain bikes for kids. It rides on 24-inch wheels and features a full dual-suspension system that will provide your child with a comfortable ride.
Key Features of the Mongoose Exlipse Mountain Bike
Strong steel body
Full dual suspension
Very sporty style
Front and rear V brakes
Narrow pedal positions
21 Speeds
24-inch Alloy wheels
Shimano rear derailleur
What makes the Mongoose Exlipse Dual-Suspension Mountain Bike unique from the other bicycles?
The Mongoose Exlipse mountain bike is designed for varied terrain and is equipped with everything your young rider needs to feel confident as they venture off the pavement and sidewalks and into the hills, mud, and trails.
Dual Suspension: The bike features a dual suspension system that absorbs all of the bumps your rider encounters on the trail and helps keep them upright and in control.
Good Stopping Power: The Exlipse features linear-pull brakes on the front and rear. These caliper brakes help quickly bring the bike to a complete stop.
Gear Shifting System: The bike has 21 gears installed on it so that your rider can get up and down steep hills, and a quality Shimano rear derailleur makes changing gears smoothly and worry-free.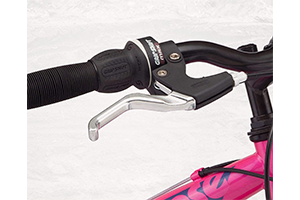 What do kids like most about the Mongoose Exlipse?
The main thing kids notice about this bike is that it has a very sporty look and feel. The bike looks ready to ride and roll downhill with big 24 inch wheels and a suspension system on the front fork. The rear suspension sits above the crank and gives the bike an attractive, futuristic feel that will keep your kid excited to ride.
The height of the seat and the handlebars on this bike are almost the same, which keeps the rider in an aggressive riding posture. The seat of the bike is easily adjustable to help your young rider find a comfortable position.
Is the Mongoose Exlipse a good mountain bike?
Parents' primary motivation when shopping for kids' bikes should be safety. As your child starts to ride more aggressively you want to be sure that they are riding on a bicycle that supports them properly and helps keep them upright. The Mongoose Exlipse delivers that and more with a myriad of smart features that make for a great riding experience.
The main thing that the bike offers is a dual suspension system to absorb bumps in the road. On this bike, the rear wheel really floats and smoothly maneuvers up and over obstacles. The front-wheel suspension has good travel and keeps kid's hands from being jarred off the handlebars.
The brakes on this bike generate good stopping power so that even young kids can easily bring it to a complete stop. More expensive competitors offer disc brakes, but Mongoose opts for the more durable and reliable linear-pull brakes on the front and rear.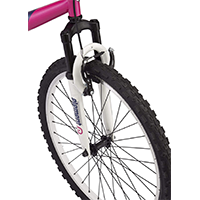 Changing gears is easy on this bike so that kids won't have to dismount when they encounter steep uphill climbs or descents. The bike has 21 gears and a Shimano rear derailleur moves the chain smoothly even when under pressure.
Is the Mongoose Exlipse a well-built mountain bike?
Mongoose has a good reputation for quality bikes and solid construction. The Exlipse has a frame made of steel, so it weighs a little bit more but is very strong and unlikely to rust. The wheels on a mountain bike also take a beating, so this bicycle has alloy rims with 24-inch wheels.
Mongoose also outfits this bike with good components including a rear derailleur by Shimano and a 3 piece crank.
Does the Mongoose Exlipse mountain bike fit nine and ten-year-olds? 
The bike is designed for children ages nine to ten years old. It has a 15" frame mounted on 24" wheels and the seat is easily adjustable to accommodate your young rider.
The handlebar width is 560mm and the grips are easy for small hands to hold.
Shipping and Assembly
The bike ships from Mongoose in a package approximately 49 x 24.5 x 9 inches and weighing about 33 lbs. The bike is extremely easy to assemble as it comes partially assembled from the factory. Parents report that the bike is ready to ride in just a few minutes.
Is this bike easy to clean and maintain?
As a steel frame bicycle, there is limited required maintenance and cleaning is easy with mild soap and warm water. However, since it is a full dual suspension bike there are a lot of nooks and crannies for you to clean out and some parts can be a bit difficult to reach easily.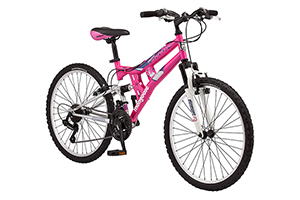 Here are some concerns of customers who bought the bike:
According to a lot of customers, the brakes of the bike work did not function properly and some even mentioned that they came broken.
Another person told that the handlebar that came in with the package was completely messed up and was upside down after installing.
One customer mentioned that the kickstand has an odd placement which keeps the bike tripping over often.
According to another person, the chain kept coming off after 3 days of use.
Some people complained that the tires got locked often even on simple and smooth terrains.
Most of the concerns that people had were along these lines.
Final Verdict
Mongoose has built a solid mountain bike for kids with the Exlipse and parents who purchased it for their children overall are very happy with it. The bike has a good balance between form and function with solid components to keep children safe and comfortable on their rides.

Full dual suspension bicycle
Easy to assemble
Shimano derailleur
Front and rear linear-pull brakes.
Sporty look and feel
Alloy wheels and 24-inch rims

Only one color available
No disc brakes
Aggressive style not for everyone
No water bottle holder
Final Thoughts
Keep your kid excited to ride and help them conquer new terrains with the rugged and ready Mongoose Exlipse mountain bike. Offering a strong steel frame and full dual suspension, this bike will keep your young rider upright on the trails and riding all day long. Alloy wheels and 24-inch rims roll over bumps in the road while stopping power is generated from front and rear linear-pull brakes.
Biking is a great way to keep your child active and healthy. Putting them on a bicycle that looks good and excites them makes for longer riders and more enjoyable days. With a great-looking design and good, functional components the Mongoose Exlipse is a solid choice.