When your seven or eight year old needs a bicycle the Huffy Go Girl / Ignyte (boys) bike is an excellent option to consider. It has a reliable design with proven durability and it is available in 4 attractive colors (2 Go Girl colors and 2 Ignyte boys colors). Huffy has been building bikes since 1953 and parents know that the brand is one that they can rely on and trust.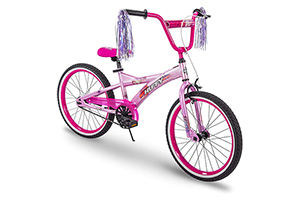 Huffy Go Girl / Ignyte kids bike is the same frame and components marketed under two different names – one for boys and one for girls. The bike is solid and sturdy with a low slung frame so that kids can hop on and off the bike easily. The bike rides on nice, air filled 20 inch tires that keep it rolling over any bumps in the road.
Key Features
The Huffy Kids Bike Go Girls and Boys Ignyte 20-inch Wheel Bicycle is a good option for kids moving up from a smaller bicycle to a more full sized bike. This bike looks and rides more like a grown-up two-wheel bike and for some kids it will be their first bike that didn't come with training wheels. Let's look at some of the key features.
High-quality steel frame.
Colorful and attractive bike splashed with fun graphics.
Equipped with a pedal brake on the rear wheel and a hand brake for the front wheel.
Easy to adjust saddle seat with durable alloy quick-release mechanism
Kickstand included.
Adjustable handlebar height to help ensure the right fit.
Colored rims and large 20 inch wheels.
Translucent bike chain guards.
Huffy offers a limited lifetime warranty.
The Details
Safety and comfort are critical features to consider when buying a kid's bike. Huffy knows that and provides young riders a safe bike that also looks good with the Huffy Kids Bike Go Girls and Boys Ignyte 20-inch Wheel Bicycle.
Lightweight Frame
The lightweight steel frame is used in Huffy Kids Bike Go Girls and Boys Ignyte Bike, making it easy to control and balance. This 20-inch lightweight bike offers extra stability and precise control. The frame swoops down low so that kids can easily swing their leg over to hop on and off the bike fast.
Double Brakes
This 20-inch Wheel Huffy Kids Bike is equipped with two different brake systems. The rear wheel has a coaster or pedal brake and the front wheel has a caliper-type hand brake. The dual brake system provides a lot of stopping power and makes this bike a safe option for growing kids. The dual brakes also make for a smooth and comfortable transition from a little kid's bike to a more grown-up bicycle in the future.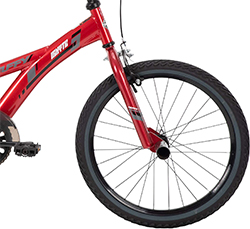 Training Wheels and Kick Stand
A kickstand does come standard and is useful for propping up the bike between rides. There is no provision to attach training wheels to this Huffy bike since the axle is too short.
Single-Speed
The Huffy Kids Bike Go Girls and Boys Ignyte is a straightforward, easy-to-learn single-speed bike, allowing your kid to learn riding without the difficulty and confusion of switching gears.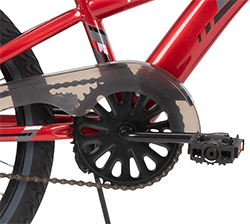 Attractive Colors and Design
Huffy Kids Bike Go Girls is designed with cute, little girl aesthetics like a periwinkle blue option or a hot pink option that are both adorned with handlebar tassels. The Huffy Boys Ignyte Kids Bike has a BMX influenced design including pegs on the front wheels and either a brilliant blue or a ravishing red color scheme. Both the boys and the girls bikes have a padded handlebar as well.
Dimensions and Specifications
This 20-inch Huffy Kids Go Girls and Boys Ignyte Bicycle is a fairly big bike for your seven to eight year old son or daughter. Huffy notes that the shipping weight is around 32 lbs so it is not a lightweight bike but it is sturdy with a nearly 120 lbs weight limit.
Shipping and Assembly
Huffy ships this bicycle in a 45" x 9" x 22" box and promises an easy installation through their Quick Connect bikes features. The Quick Connect bikes from Huffy assemble easily and need just a few
screws before being good-to-go. Huffy Kids Go Girl and Boys Ignyte 20-inch bikes require parents to instal the front wheel, handlebar, seat, and pedals. A wrench is necessary for the front wheel, pedal, and handlebar installation steps. Most parents found the assembly process pretty simple and straightforward
and were done in just a matter of minutes. A few customers ded complain that the assembly guide could be confusing since it covers several different bike models.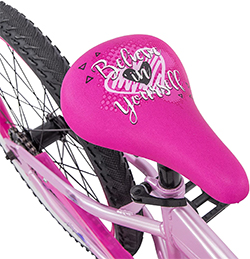 Cleaning and Maintenance
Huffy has used rust-proof steel for manufacturing this low-maintenance, easy-to-clean kid's bike. Your child doesn't have to go the extra mile to keep the bike in a good condition and they can keep it clean with just mild soap and warm water.
Bike Accessories
Remember to always buy a safety helmet for your children to protect them while riding. Getting knee and elbow safety pads with the purchase of a kids bike can also be a good idea and a great way to keep your child from getting hurt while out enjoying a bike ride.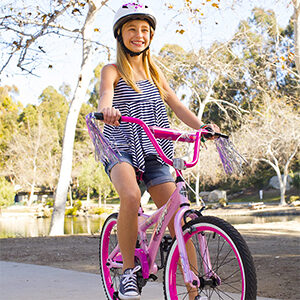 Final Verdict
Parents have overwhelmingly positive reviews regarding the quality and safety features on this bike. There are some sporadic user complaints about the back wheel locking up often, pedals coming loose, and the chain de-railing but overall most customers seem satisfied with the Huffy Kids Bike Go Girls and Boys Ignyte 20-inch Wheel Bicycle.

Good value for money
Simple care and maintenance
Solid, sturdy, great looking
Strong steel frame
Single-speed bike
Easily adjustable seat
Easy-to-adjust handlebars
Four attractive colors
Quick-Connect assembly
Limited lifetime warranty
Good value for money

No provision of attaching training wheels
Some issues with the quality of pedals
Instruction manual is vague in places and could be more specific
The Bottom Line
Girls love the pretty pink and popping purple Huffy Kids Go Girls Bike while boys dig the red and blue classic colors of the Ignyte. Both bikes ride on 20-inch wheels and sport dual brake systems. Huffy Kids Bikes are known for their reliability, safety and durability with this bike being another strong addition to the lineup. It's an excellent transition bike for growing kids with a reasonable price tag for parents.