Adventurous boys love to try out bike tricks and hit the trails or bike parks. These kids need strong bikes that can help them harness their excitement and enthusiasm for riding and safely push their limits. Parents shopping for a kids bike need to consider safety, durability, looks, and the price tag. A BMX freestyle bicycle is easy to ride on sidewalks but also can dash down difficult terrains due to reliable wheels and suitable safety features. One of the best options to consider is the Mongoose Grudge BMX freestyle bike with 26-inch wheels, which fits riders 5'4" to 6'2" in height.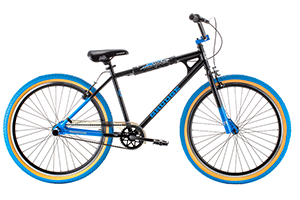 BMX freestyle bikes are designed and manufactured with extra emphasis on strength and safety features for riders. The Mongoose BMX Freestyle Bike for Men pairs a rugged fork and frame with a single-speed drivetrain that makes the bike very easy to control. This bike comes in a classic black color, and the design is enhanced with blue and orange tires. The bike generates exceptional stopping power thanks to a dual-brake system, and for added control, it rides on wide tires with thick double-walled aluminum rims.
Key Features
The Mongoose BMX Freestyle Bike for Men has a wheel size of 26-inch and is suitable for riders of all ages and ability levels looking to explore the fun and adventure linked with BMX freestyle. Mongoose BMX Freestyle bikes get endorsed by some of the world's best bikers and have a good reputation for quality and reliability. Let's list down the features and specifications of this particular bike to let you know what this bike has to offer.
Made of high-quality steel, guaranteeing durability.
Equipped with a reliable and efficient V-brake for the back wheel and a linear-pull caliper brake for the front. A dual brake system adds extra safety and allows accurate and reliable stopping.
Single-speed drivetrain to allow a simple yet enjoyable ride.
Solid trick potential with the rear pegs.
Available in classic black color with blue and orange tires.
Mongoose offers a limited lifetime warranty.
The Details
Strength, safety, and comfort are the most critical features to consider when buying a bike for your child. Mongoose has been a trustworthy bike manufacturer for years with a solid commitment to safety. Let's take a look at each of the features of the Mongoose BMX Freestyle Bike so that you can make an informed purchase decision.
Steel Frame
The durable, high-quality steel frame is used to make sure it can absorb lots of punishment. The frame makes it a heavier (33 lbs.) bike but it is easy to balance and control. Young riders will appreciate the extra stability and control.
Reliable Brakes
The bike is equipped with a dual brake system that offers reliable stopping power and is highlighted by the rear V-brakes made out of high-quality alloy. The bike also has linear-pull caliper brakes for added safety.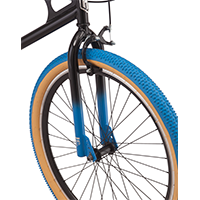 Drivetrain and Chain ring
The bicycle has a single-speed drivetrain to offer a simple, fun, and comfortable riding experience. A one-speed, fixed gear bike is simple to ride and gives a direct connection to the surface below that makes it fun to ride on the dirt or the street.
Wheels and Hubs
The Mongoose Grudge ries on wide 2.35 inch colored tires with 1-Inch-thick double-walled aluminum rims. These wheels offer a satisfying ride on difficult terrain and move easily between the dirt and neighborhood pavement. The rear wheels include freestyle pegs that offer incredible trick potential.
BMX Styling
The bicycle has a nice look and feels with colored tires, handlebar, and top tube pad. The handlebars have textured, rubber grips that are good-looking. The bright-colored tires really steal the show.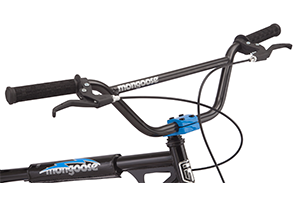 Customer Reviews
Parents have highly favorable reviews regarding the quality, safety, and durability of this bike, with a handful of not-so-satisfied customers. Most user complaints are a result of damage that occurs during shipment. Some riders do have concerns with the long-term reliability of the brakes and the quality of the steel used in the frame and fork. Other riders were dissatisfied with the saddle seat and found it uncomfortable.
Dimensions and Specifications
This bicycle rides on 26-inch wheels but it is a rather compact bike with an easily manageable weight. It weighs about 33lbs. Riders standing between 64 – 74 inches tall can safely and comfortably ride on the bike.
Shipping and Assembly
Parents report that this bike is mostly effortless and rather straightforward to assemble. Mongoose always claims easy assembly and installation of their bikes, and the Grudge is no exception. Again, some people report that the bicycle is damaged during shipment or arrives with a missing part or nut, but overall this bike wins customers' satisfaction.
Mongoose quotes the shipping weight around 38 pounds.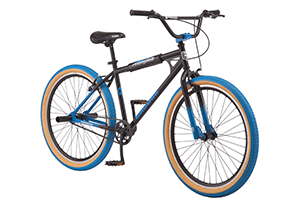 Cleaning and Maintenance
Since Mongoose uses a rust-proof steel BMX frame for manufacturing, this bike is exceptionally easy to keep clean and maintain. No extra effort or time is required to keep it rust-free, clean, and as good as new. Parents can wash this bike as needed with mild soap and warm water.
Final Verdict
Overall, this bike from Mongoose delivers a solid BMX riding experience with a strong frame, single-speed drivetrain, and dual braking system that makes it safe, comfortable, and fun to ride.

Sturdy & Durable
Low Maintenance
1-Inch-Thick Double-walled Aluminum Rims
Colored Tires
Rear Pegs
Linear Pull Caliper Brakes
Rear V-Brakes
Single-speed, fixed gear
Suitable for Men Up to 6 Feet
Good Quality Welds and Gussets
Quill Stem for Handlebar Height Flexibility
Limited Lifetime Warranty
Good for Pounding Neighborhood and Mild Tricks
Good Beginner BMX bike

Premium price
Weaker caliper brake with plastic brake lever
Slightly uncomfortable and hard stock saddle
Some quality concerns around the frame and brakes
The Bottom Line
Since their founding in a Southern California garage back in 1974, the Mongoose brand has been synonymous with aggressive riding that helps push the limits of what a rider can do. The trademark Mongoose approach gives great results with the Grudge BMX Freestyle Bike offering a safe and reliable biking experience for young riders. Parents can be confident that this is a strong and sturdy bike for their child to ride.