As your child grows out of their tricycle it becomes time for their first bike and a great choice is the Schwinn Koen boys bike with 12 inch or 14 inch wheels. Boys like the aggressive BMX styling on this bike with its front mud shield and contrasting color fork. Parents like that the bike puts safety first with a strong frame, dual brake system, and forward positioned pedals for easier starting and stopping.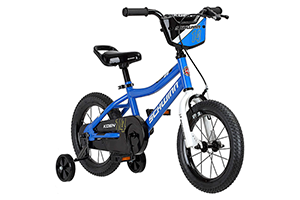 Schwinn is a proven manufacturer of kids bikes and they have a strong track record of providing sturdy bike frames and reliable components. Parents buying a kids bike often have safety top of mind and thankfully Schwinn prioritizes that as well with some smart, kid specific designs that help your young rider stay safe. In this review we will analyze the bike's features and help families decide if this is the right bike for their child.
Key Features
The Schwinn Koen Boys Bike has aggressive BMX styling and solid safety features to keep your child safe and excited to be out riding. The bike has 12-inch wheels or 14-inch wheel options for little kids to choose from as they take up bike riding. Let's look at some of the bike's other key features that make it an ideal choice for an everyday neighborhood ride.
Strong steel frame that has good balance
SmartStart Technology design with kid-friendly geometry suitable for childrens small body structure.
Dual brakes for efficient stopping.
Front caliper brakes to teach usage of hand-brakes for future rides on adult bikes.
Rigid suspension for a steady and controlled ride.
Adjustable seat post, saddle, and handlebar to grow along with your child.
Schwinn Koen Boys Bike is covered by a limited lifetime warranty.
What makes the Schwinn Koen bike stand out?
For the new riders, safety, comfort, and a secure riding experience are the essential features to look for, so while shopping for toddler and kids bikes parents should keep that in mind. Let's review the Schwinn Koen Boys Bike's design and features in detail and from that perspective so that you know what to look for in a kid's bike when you are shopping.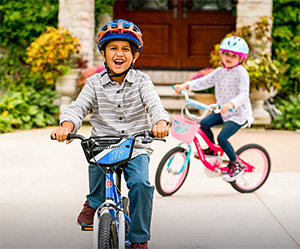 Frame and Wheel Size
Selecting the right frame and suitable wheel size ensures a safe and comfortable riding experience. Schwinn Koen Boys Bike with 14-Inch wheels is designed to fit the needs of a 3-4 year old kid with a standing height of around 36-40 inches. The version with 12-inch wheels is designed for children standing 28-38 inches tall. Additionally, this bike is highly adjustable as it is equipped with a moveable seat post and saddle along with a slack seat-tube angle. This allows the Schwinn Koen boys bike to grow with your child.
Smart Start Technology
This Schwinn Koen Boys Bike uses the company's special Smart Start Technology to match the bike design perfectly to a child's body and it's smaller proportions. The bike is designed to have an ideal geometry for children and offer a comfortable and ideal riding position. The cranks on the bike and the pedals are narrower and placed further forward to give kids more leverage for starting and stopping. A lighter frame, smaller grips, and narrower pedal position make your kid's riding experience more enjoyable and allows for longer rides. It is not a scaled-down version of an adult bike, but instead a unique and kids-friendly design ensuring safety and enjoyment.
The Schwinn Koen Boys Bike with 14-Inch wheels is a one-speed bike allowing your new little rider to focus on learning how to balance, control, pedal, and stop the bike.
Brakes
Schwinn Koen Boys Bike with 14-Inch wheels comes with dual brakes as a safety feature. Both rear coaster brakes and front caliper brakes are incorporated into the design, so children can use one or both to generate stopping power. The hand caliper brakes help children learn how to control the bike through hand-brakes, which can help smooth the transition to big kid bikes later on.
Training Wheels and Kickstand
The bike comes with detachable training wheels as a standard accessory. They are easy to attach and help make the first few rides of a 4-year old boy easy and confident. Training wheels give the rider good control and the design helps minimize the wobble. The bike does not have a kickstand included.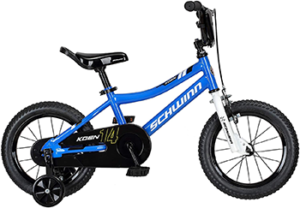 Aesthetics
In addition to key design features for your kids' safety and comfort, a few extra features are integrated into the Schwinn Koen Boys Bike design to make it look more attractive. The bike comes with a front mudguard that has a number plate and cool BMX styling. The bicycles also comes in three attractive primary colors: black, blue, and red.
Material and Build Quality
The Schwinn Koen Boys Bike with 14-Inch Wheel is built using a lightweight rust-free steel frame. The SmartStart technology, employed in designing this kid's bike, makes it a comfortable and kid-friendly option for small kids. Safety features on the bicycle include a helpful saddle handle for parents to hold onto as they help children along.
Most parents have very positive reviews about the build quality and durability of the Schwinn Koen Boys Bike. The parents that are unsatisfied usually encounter a problem with assembly due to the misleading and generic assembly instructions provided with the bike. Some small portion of users experience issues with missing parts or compromised parts like the brakes and pedals. Overall, Schwinn Koen Boys Bike has favorable feedback from users around build quality.
Dimensions and Specifications
The shipping weight of this bike is around 11.07 kg, and the bike itself weighs somewhere around 9.2 kg. Some customers, having petite kids, criticize the weight of the bike but even small children should be able to handle and balance it easily.
The 12 inch wheels are suggested for riders 28-38 inches tall and the 14 inch wheels are suggested for riders between 36-40 inches tall.
Shipping and Assembly
Many customers complain about confusing and, at times, misleading assembly instructions that come with the bike. While the majority of customers found the assembly relatively simple and straightforward, there is no denying that plenty of parents struggled to put together this bicycle. Parents should not underestimate the assembly process, but ultimately it's just a bike and not truly that overwhelmingly difficult to assemble. More often than not parents just wished the assembly process was smoother, when in reality it's reasonable to expect some parts needing a nudge to fit into place.
Cleaning and Maintenance
This bicycle is made of high quality steel, so it's a relatively rust-proof bike and thus easy to maintain and clean. Your little rider will not have to make extra effort to keep it rust-free and in a presentable condition. Mild soap and warm water can be used on the bike frame periodically to wash it.
Accessories
This bike comes with training wheels included so parents do not have to worry about that. Other nice things to include on the bike include a bell and a light. It is also always recommended that you purchase a good bike helmet and also protective riding gloves, knee pads, and elbow pads to keep your kid safe while enjoying the ride on the street.
Final Verdict
Parents agree that Schwinn has designed a solid starter bike for young riders with their Koen Boys Bike. The bicycle has excellent geometry for youngsters and positions them comfortably to allow for good control and longer rides.

Affordable price
Lightweight steel frame
Smart Start Technology
Narrow pedal positioning
Easy starting gears
Kid size seat and handlebar grips
Dual brakes
Tool-Free adjustment
Training wheels included
Easily adjustable seat post and saddle
Ready-to-assemble design
Limited lifetime warranty

No kickstand
Confusing assembly guide
Compromised quality on some parts
The Bottom Line
Overall, the Schwinn Koen Boys Bike with 14-Inch wheels is an excellent, easy-to-learn bike for your new rider. The Smart Start technology makes it a comfortable choice for your kids and provides them with reliable stopping power, which is crucial as they start exploring biking as a thrilling outdoor activity. The bike is suitable for riding on sidewalks around town or taking a bike path to the park. Assembly is an issue, as reported by customers, so don't expect the bike to ship to you ready to ride. Still, parents find this bike to be a good value for the money and a solid investment in the biking future of their young children.