Children grow up fast and your little one will be ready to transition from a starter back to a big kids bike before you know it. Oftentimes parents might have to push their child to move up to a larger bicycle because at first the bigger bike with bigger tires can be intimidating to ride. One of the best big bikes for parents to consider for their children is the Guardian Ethos Kids Bike.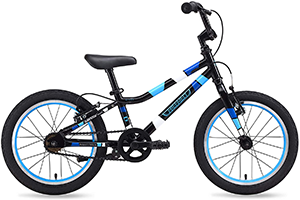 Guardian Bikes is one of the best-known bike manufacturers in the world and they bring a serious approach to safety. Their bikes are built around the company's SureStop braking technology, which works to help riders bring their bikes to a complete stop without risk of tumbling over the handlebars. Parents appreciate the company's commitment to safety and the Ethos Kids' bike on 16 inch wheels is an excellent option to consider for any five or six year old riders.
Some of the key features of the Ethos Kids bike include:
State-of-the-art SureStop Braking Technology
Frame made of lightweight steel
Extended wheelbase for extra safety and comfort
Lightweight bike for better handling and control while riding
Durable wheels with good traction
Quick-release clamp to easily adjust the seat height
34-point Manufacturers Safety Check
30 day trial and a limited lifetime warranty of frame with 1-year replacement on parts
Why is the Guardian Ethos Kids Bike the Best Choice for 5 and 6 Year Olds?
As kids transition from their toddler bike to a big kid bike with a 16 inch wheel size one of the biggest challenges is starting and stopping. The larger wheels roll better over bumps in the road and they roll a lot faster so some kids can feel out of control. Parents looking to help their child feel confident on the larger bike can point to some of the unique features on the Guardian Ethos kids bike that make for an extraordinarily safe and comfortable ride.
Lightweight Frame
A lightweight steel frame is used in Guardian Ethos Kids Bike, making it easy to balance and control. It has classic tubing and light and slim design for a better ride. This bike gets exclusively designed to focus on safety before anything else; hence weight is kept under check. A lightweight bike offers more stability and complete control while your kid embarks on a riding venture.
A kickstand is incorporated into the frame to make storing the bike easier.
SureStop Brakes
Guardian Bikes are most famous for their SureStop Technology. The company was founded entirely on the idea that a better bike design will help to eliminate dangerous head over handlebar accidents. This advanced one-lever-two-brake technology adds stopping power and safely enables littler riders to stop up to 44% quicker.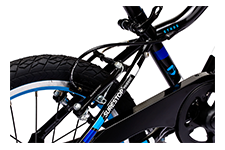 SureStop brake technology precisely distributes braking to both the rear and front wheels and makes the ride braking accident-free. Slow-reacting and unreliable brakes can be a big problem on some kids bikes but not the Guardian Ethos.
Simply One Speed
The Guardian Ethos Kids Bike is a simple, easy to ride 1-speed bike, allowing your kid to learn riding without confusion and difficulty. Bigger versions of the bike with 24″ wheel size for older kids comes with 7-speed standard shifters to encourage big kids to explore gears and speed control.
Kids-Centric Geometry
Since Guardian Ethos Kids' Bike has a prime focus on safety, the entire bike is designed with that in mind. This bike's customized geometry aims to specifically put your child closer to the ground so that they feel more in control, and the ample wheelbase works to improve stability. Guardian understands that small kids need smaller grips, shorter crank arms, and less distance between the pedals. They also provide a low, easy step-over height so that kids can get on and off easily.
Three Wheel Sizes
Selecting the perfect size bike for your child can be difficult, but parents need to find a suitable wheel size to guarantee a comfortable and safe ride for their little one. Guardian Ethos Kids' Bike comes in three standard wheel sizes with the 16 inch wheels usually the best fit for five year olds and six year olds. The 16″ wheel bike is suitable for kids in the range of 40″ to 46″ tall. The bikes with 20″ wheels come with two wheelbase options, 32″ and 35″, to offer an extra satisfying fit and a comfortable riding experience for kids ranging 43″ to 53″ of height. The 24″ bike wheels are designed for bigger kids up to 61 inches tall.
Dimensions and Specifications of the Guardian Ethos
This Ethos model of the Guardian Kids' Bike is lightweight and compact. The bike weighs approximately 17.5 lbs. The seat range on this bike is approximately 18.5 – 23.5 inches.
The Guardian Ethos Kids Bike is easy to Assemble and Clean
Parents love that when this bike arrives at their door it is already 95% assembled by the manufacturer. Each cycle undergoes rigorous inspections before shipping to guarantee a professionally assembled bike.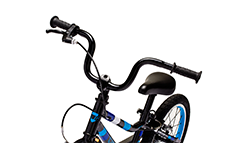 It may seem obsessive to have a 34-point safety check, but Guardian Ethos Kids' Bike works to leave no stone unturned to deliver a safe and accident-free bike for your child.
The remaining assembly steps for parents are clear and straightforward with easy instructions and the necessary tools all provided. The majority of customers find assembly easy and have the bike fully assembled in a matter of minutes.
Made of rust-proof steel, Guardian Ethos Kids' Bike is a low-maintenance, easy to clean bike. You don't need to push your kids to go the extra mile to keep the cycle in a presentable condition. Once in a while, a quick shower with warm, soapy water is enough to keep the bike as good as new. Lubricating the chain regularly can help extend the life of it. Also, don't forget to buy a safety helmet and maybe knee and elbow pads along with the bicycle so that your child doesn't get hurt while enjoying their ride.
Cool Colors and Attractive Decals
Guardian Ethos Kids' Bike focuses on safety but doesn't overlook the aesthetics. This is an especially attractive kids bike with great decals complimenting cool color schemes. The bike comes in a black or an aqua base color with complimentary blue, green, or red decals on the frame and the tires. Kids will like the look of this bike and be excited to ride.
Final Verdict

SureStop reliable brakes
Lightweight steel frame
Kids-centric custom geometry
Adjustable seat
Easy to maintain
1-speed easy to ride
Attractive decals
Effortless assembly
Limited lifetime-warranty

Loose steering
No training wheels
More expensive than competitors
The Bottom Line
Parents love the Guardian Ethos Kids' Bike because of its reliable safety and control features. Kids enjoy the ride since it is a simple and easy to handle bike for little cyclists. Without a doubt, it's an excellent choice with safety features to ensure a risk-free ride for your kid.
When you start hunting for a kids' bike for your little cycling champion, you might get overwhelmed with the number of options you will have. Kids bikes are available in a variety of sizes and ,surprisingly, shapes as you may find some bikes with compromised features yet a beautiful cartoon styling. When shopping for your child's bicycle keep your focus on safety and definitely consider the Ethos Kids Bike from Guardian.