It is important to get kids outside exercising and one way to do that is by keeping their enthusiasm high. For a bike that really builds their excitement for bike riding, parents should check out the Aceger Girls Bike. This kids bike has a cute design that makes it fun for your daughter to ride, and a wicker basket up front that can hold her toys or snacks.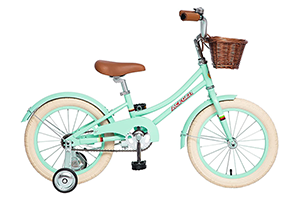 The frame on the Aceger girls bike is especially easy for girls to mount with a low bar attaching well below the seat post. The seat is adjustable and it is soft with a lovely leather feel that also is on the handlebar grips. The air filled tires add to the comfort and are color coordinated with the rest of the bike to complete the attractive motif.
Some of the key features of the Aceger Girls Bike include:
Extremely elegant design with color coordinated components.
Strong sturdy steel body.
Rear coaster brake
Narrow pedal positions.
Partial chain cover.
Mudguard fenders on front and rear.
Equipped with a wicker basket.
What makes the ACEGER Kid's Bike unique from the other kids' cycles?
The ACEGER Kid's Bike is a good looking bicycle but it is built with user-experience as its prime goal.
Sleek Design
The design of the bike, with all the downward curved poles, is highly functional but it also looks very pretty and appeals to girls. The decals on the bike are minimalist, giving it a clean look and feel. The cream colored tires complete the look but also are air-filled for a comfortable ride.
Easy seat-height adjustment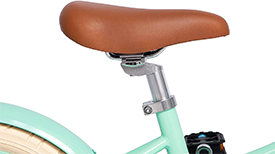 The seat has a clamp on it that opens and closes to allow the seat to be freely adjusted according to the rider's needs. Children can keep increasing the height when their own heights increase, so it can be useful for several seasons.
Extra Compartment
The bike has a great storage basket up front where children can keep their water bottles or other small toys or snacks. The basket is not a regular plastic basket, but instead a cool wicker basket that goes well with the bikes overall style.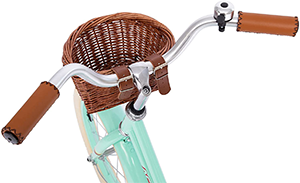 Is the Aceger Kids Bike fun for kids to ride?
This is a really fun bike to ride and not just because it is so good looking! The bike is very child-friendly with a low-curve design that makes it a great option for girls. Handlebars on this bike are comfortable to hold and position the rider in a strong position sitting up straight over the bike seat. The bike comes with an adjustable seat, making it easy for children to find a comfortable height.
For brakes on this bike the kids only have the rear coaster brake option. That does add to the clean and easy look of the bike, but ultimately it might be safer for the young riders if they had a front lever brake on the handlebars as well. However, some experts feel that only having one type of brake helps a young child concentrate on the braking and not get confused in a panic stop situation on their bike.
Other nice features on this bike is that it has training wheels included standard so parents can connect them right out-of-the-box for new riders.
From a safety perspective, a nice part about this bike is that it has fully covered mudguards on the front and the rear tire to help keep the rider clean from dirt while riding. A chain protetor adds to riders safety by helping to avoid any snags or derailments.
How big is the Aceger Kids Bike and what size three and four years olds fit on it?
The bike comes in a couple of different variants for kids of all ages. The bike with 14 inch wheels is best for riders ages three and four. It is designed for children with an inseam of 13 inches to 16 inches. The bike is heavy at nearly 22 pounds so some small children can be a bit overwhelmed by its size at first.
Remember that the seat is adjustable on this bike, so parents can adjust it up and down to find a ride height that is comfortable for their child.
The bike is small enough to fit comfortably in the trunk of most cars, although the training wheels can make it a bit unwieldy while attached. Since the bike has only a narrow gap in the frame between the two posts it is unlikely that this bike will attach safely so most vehicle bike racks and parents should be sure to plan accordingly.
Shipping and Assembly
Parents have both universal acclaim for how good looking the Acege Kids Bike is and universal disdain for the complicated assembly process. This bike scores its lowest marks here as it arrives disassembled and with unclear, incomplete instructions that might leave some parents frustrated.
Parts of the bikes that parents need to attach include the saddle handle, basket, and mudguards. Some components like the mudguard often do not fit together well out of the box and parents have to bend it themselves to make it work. Similarly, attaching the crank and pedals can feel unintuitive for some parents and prove challenging if they are inexperienced with bicycles. It would be great for Aceger to improve the packaging and assembly process.
How easy is it to clean and maintain the Aceger Kids Bike?
Some parents worry that it could be difficult to keep this attractive bike looking nice but in fact it does not require any extraordinary maintenance. The tires are cream colored but prove fairly stain resistant. The bike frame is made of steel so it can be cleaned with soap and warm water. The bike does not have a lot of big decals so scrubbing it clean is easy and has little risk of damaging the painted finish.
What are some great accessories that will look good on this bike?
Parents are happy that this bike has some nice standard accessories like the training wheels and the front basket. An important accessory for parents to purchase is of course a good quality helmet that will keep your young rider safe. Another important accessory to purchase is a nice bike light that can attach to the handlebars and help with night rides.
Are parents happy with their purchase of this Aceger bicycle?
Overall, parents are happy with this bike and appreciate that they can get their daughters such a sturdy, attractive bicycle for such a reasonable price. The bike is cute as can be and kids will feel great riding around on it. When customers run into problems with this bike it often occurs during assembly. Numerous customers complain about the packaging of the bike and that the disassembled pieces and misleading instructions are a tough combination to combat. Assembling this bike takes some elbow grease and a willingness to pound a few pieces into place. Parents who can get that done are rewarded with a strong bike that is durable and looks great.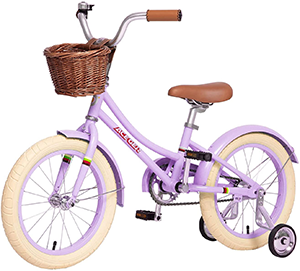 More frustrating for parents is that on too many occasions there are critical parts missing from the box that delay assembly while waiting for replacement pieces. Most often it seems the training wheels are missing and while parents can certainly add different ones everyone understands why that makes for a frustrating purchase.
Final Verdict
Kids bicycles are tricky and often a bit of a mixed bag. Bikes for the youngest riders need to be strong enough to take a beating but also inexpensive enough to warrant investing in something that children might grow out of fast. This Aceger bicycle is no different as parents can get their child a cute, reliable bike at a surprisingly affordable price but it requires some flexibility during the assembly process.

Chain protector.
Good quality for the price.
Modern and attractive design.
Several bright color choices.
Comfortable seat pad cushion and grip handle.

Bike does not have a hand brake.
Extraordinarily cumbersome assembly process.
Reports of some missing parts during shipping.
Final Thoughts
It is important to get kids out riding and one of the best ways is to find a back they love that makes them feel great. Your daughter is bound to appreciate the slick styling of this Aceger kids bike and be eager to ride. With an easy on-off design and a fun basket up front it won't be a surprise to find your child asking for a bike ride every day. Cycling is one of the best activities that children can do to stay healthy, and this sturdy bicycle can keep your daughter riding safely all day long.