Your daughter is not going to jump onto their first bike and win a triathlon or road race so don't get hung up on starting her out on a performance bicycle. Instead, consider getting her a fun bike that she will feel great on. The best way to encourage young kids to ride bikes is to make it fun, and few bicycles available today are more fun than the Coewske steel frame "Princess Style" bicycle.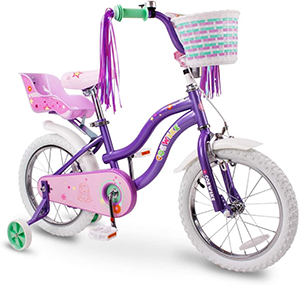 While most bikes for young riders will come with one or two adornments, the Princess Style bicycle from Coewske takes it to the max with a number of exciting accessories. Little girls won't be able to wait to ride on this fun bike that has room for storage in the front basket and a doll car seat in the back to take little friends along for the ride. A bell and tassels on the handlebars add to the design.
Key Features of the COEWSKE Kid's Bike
Cute Princes Style design and adornments
Single brake on handlebars and rear coaster brake.
Easy to pedal.
Strong steel bike frame.
Equipped with a cute storage basket.
Small car seat in back for dolls.
Narrow pedal positions.
Comes with a full chain cover.
Front and rear fenders included.
Easily removable training wheels.
Wide, knobby tires filled with air.
What makes the COEWSKE Kid's Bike unique from the other kids bikes?
The design on the COEWSKE kid's bike really sets it apart. Princess adornments cover the bike from front to back. The design also benefits from a strong steel frame that curves down smoothly from the handlebars to the seat post. The frame has two tubes welded onto the seat post for added strength, and children will appreciate the sturdy feel of the bike underneath them. Coewske also works hard to give every child the bike of their dreams by having a whopping seven different princess color choices available in ranges of blue, purple, and pink.
The storage compartments on this bike also really stand out with a big basket up front and a car seat in the back. The basket is wicker construction, which is flexible and can survive a fall better than the plastic style baskets seen on a lot of competitors. The rear companion seat is adorable with a deep well for placing dolls or teddy bears so that they can also come along on the bike ride.
Is the Coewske Princess Style Bicycle a Good Bike?
This bike has a number of special features on it that make it a good choice for children first learning how to ride a bike.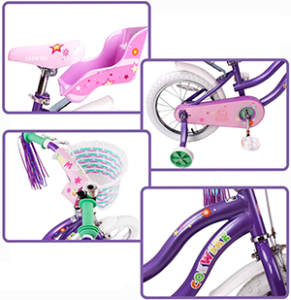 This bicycle comes with an extremely customizable seat height making it good for children of all heights. The bike seat has a clamp on it, which when untightened, allows the seat to be freely adjusted according to the rider's needs. This way, children can keep raising the seat height as their own heights increase, hence, making it a more long-term usable bike.
To help young riders get comfortable on the bicycle, training wheels are included. The training wheels install easily and are adjustable so that they support the rider and don't slow them down that much. This bike has training wheels that are plastic and a bit small so riders will want to remove them as soon as they are comfortable riding on their own.
Is the Coewske Steel Frame a High Quality Bike?
Parents should have reasonable expectations around the quality of this bicycle. The bike does have a strong steel frame and decent components, but it is not designed to last forever. The bike can withstand the abuse typically delivered by young riders, however it won't necessarily emerge unscathed. The steel tube on the bike meets with the seat post more awkwardly than on more expensive options.
The bike does have a comfortable saddle seat and riders can easily adjust it up and down by releasing the clamp. The seat is made of a soft material that makes it comfortable to ride on.
What brakes does the Coewske Girls Bike use?
One of the nicest things about this bike is that it offers a lot of stopping power to young riders. The bike has a coaster / foot brake on the rear wheel that is easily activated by pedaling backwards. In addition, the bike has a front v-brake that uses a caliper to stop the front wheel. Providing young riders with both braking options helps them quickly learn how to ride safely and bring the bike to a complete stop. It also helps them gain a sense of front wheel versus rear wheel braking, which is useful for avoiding dangerous over the handlebar accidents as kids get bigger and ride bikes faster.
The bicycle also has a fully covered bike chain that helps keep the rider clean and safe from contacting the chain.
How Big is the Bike and What Size Children Fit Best on it?
The bike comes in a couple of different variants for kids of all ages. Parents of children ages 3 -4 years old will want to choose between the 12 in or 14 in wheels, while older kids might be most comfortable on the 16 inch wheels.
Best Rider Height: 31cm – 48cm
Best Age: 3 – 6 years
Bike Weight: 18.7 Pounds
Bike Seat to Floor Distance: 26 – 29 inches
Wheel Base Avail: 12, 14, 16, 18
Since the bike seat is adjustable, parents have a bit more flexibility in fitting their children to the bikes as they grow.
Bike Assembly
Coewske ships this kids bicycle in such a way that it is already semi-assembled when the box is opened. Ideally, this means that the customers have to put little effort in assembling everything but like any complicated task it will take different people different amounts of time. The instructions included with the package are very clear and concise.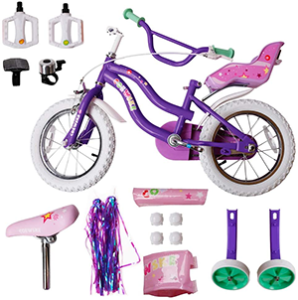 The main parts that need to be assembled on this bike include the seat post and saddle, the basket, and the extra rear seat. Surprisingly a number of parents had trouble placing the basket.
Is this Bike Easy to clean and maintain? Indeed it is!
Since the frame for this bike is made out of steel it is easy to clean by showering it with water and soapy water as necessary. The main thing to remember since it is a steel frame is that afterwards you want to be sure and dry the bike completely so that rust does not develop.
Clean the other parts of the bike like the brakes and chain cover gently, being sure to knock any dirt off but being careful to leave the parts aligned properly. Adding some oil to the bike chain afterwards will help keep it running smoothly.
The most difficult part with cleaning this bike is that the white tires will not stay shiny white for long. Even with frequent washing the wheels will begin to color so parents should have appropriate expectations.
What are the best accessories for the Coewske Princess Style bicycle?
The main accessory that all parents need to be sure and find for their child before they start riding is a helmet that fits properly. It is important that children always stay safe by wearing a helmet when riding.
Another accessory that kids love to have on their bike is a light. Lights come in handy on early evening rides and kids have fun turning them on and off.
Customer Feedback on This Bike
Overall, parents are very happy with the Coeske kids bike. The bicycle has so many fun features and princess adornments that parents report kids having a lot of enthusiasm for riding on it. The bike makes a great birthday present.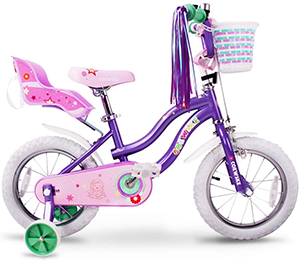 This bike is popular and they sell a lot of them. As with any mass produced good there will be some critical feedback that arises. When parents complain about this bike they most often will note that the bicycle needs a kickstand once the training wheels are removed. Some customers also report that the training wheels sit too high up on the bike and need to be adjusted down so that the rear wheel has traction.
Other parents note the occasional chain falling off or brakes needing adjustment. None of these are extraordinary when you consider the young riders and their haphazard pedaling. Bikes take a lot of abuse from kids this age and this one holds up remarkably well.
Final Verdict

A well-built bike for kids with padding and protection.
Front and rear hand V-Brake plus coaster/foot brake provides ample stopping power.
Fully-enclosed chain guard for safety.
Quick and easy to assemble.
Lightweight and high quality for the price.

Training wheels are a bit too high for the bike.
Aggressive princess styling not for everyone.
Does not come with a kickstand.
The Bottom Line
Parents with a little girl in the house who is looking to ride on her first bike can do no wrong with the princess styling of this Coewske steel frame bicycle. With a host of eye popping colors to choose from and a litany of princess adornments, this bike will steal the show.
The bike has a good design with a strong steel frame that provides a sturdy ride and a comfortable position. The bike saddle is soft and comfortable to help young riders go on longer rides. Good stopping power comes from the rear coaster brake and the front v brake. Children will outgrow their bikes fast at this age, and spending some years in a fun princess style bike is just what some kids have in mind.